Hello QHYCCD family my name is Yannick Akar and I live in southern Germany. I'm 28 years old and work in online marketing and as a digital media manager. I love astrophotography, editing and strength & fitness training.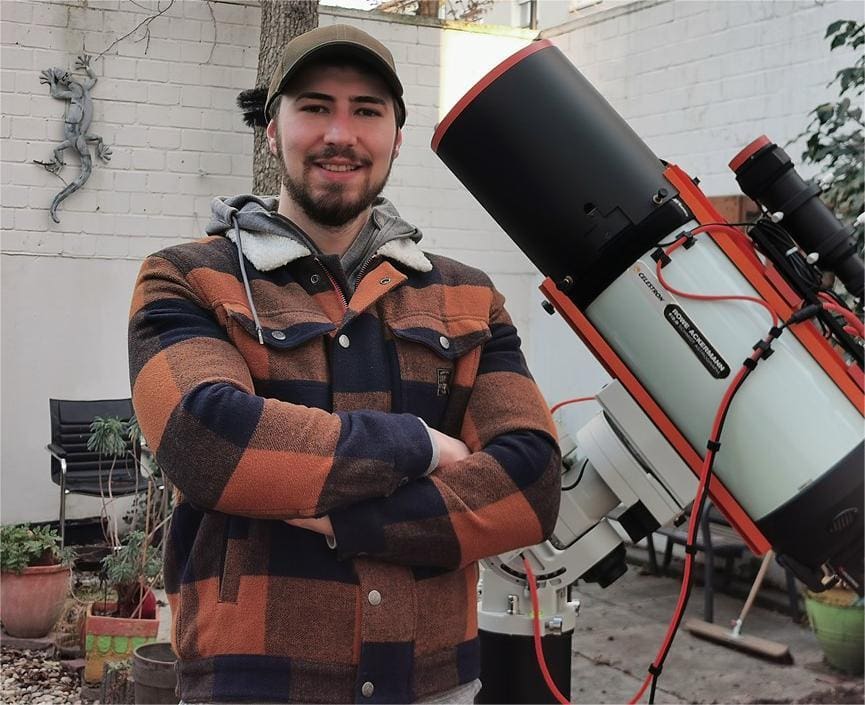 The night sky has always fascinated me. As a child I started looking at the photos taken by the NASA's Hubble Space Telescope and was amazed by the beautiful images it could achieve.
Around 4 years ago I decided to go all in and invest in good equipment to finally start taking breathtaking deep sky images by myself. Since the day I saw the first frame taken by my mono camera and narrowband filters there was no going back and I try to spend as much time as possible to perfect my skills in capturing and processing.  First steps were with a small newton telescope and a Canon 50D on a manual EQ-3 mount. I have to admit the results were more than underwhelming and not at all what I have imagined as I looked at pictures from other famous astrophotographers. After some time I decided to upgrade my setup to step up my game.
In late 2021 I decided that it is time to switch boats and upgrade my camera to the new QHY268M camera. The difference between the old Panasonic sensor and the "new" generation CMOS sensor from Sony (IMX 571) is absolutely remarkable. The higher dynamic range and lower noise performance is an absolute quantum leap, the higher fullwell and better quantum efficiency is clearly visible even in single frame. "Amplifier Glow", as well as annoying "Microlensing" artifacts (shooting bright stars is almost impossible with the old Panasonic sensor without unsightly artifacts) finally disappeared.
My journey with in the QHYCCD family couldn't have started in a better way with two absolutely highly praised images and a start with my favorite nebula in the northern hemisphere – The Rosette Nebula!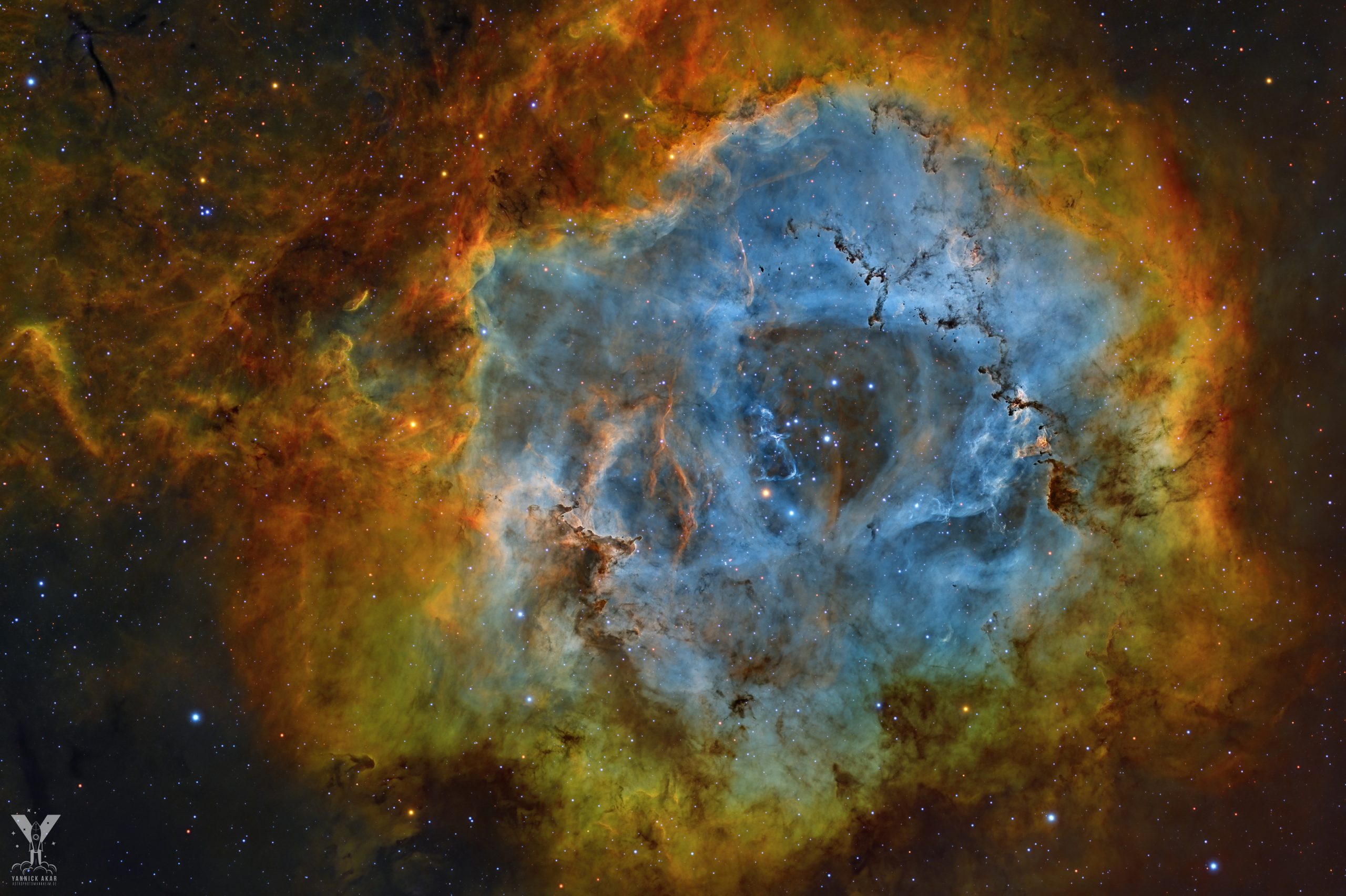 NGC 2244 – The Rosette Nebula, Astrobin Image of the day (04/08/2022)
Celestron RASA 11", QHY268M, iOptron CEM60, Baader f/2 Ultra-Highspeed SHO and RGB filters
Integration time: 33h 6′
Other images with QHY268M:
IC 443 – The Jellyfish Nebula, Astrobin Image of the day (07/21/2022)
Celestron RASA 11", QHY268M, iOptron CEM60, Baader f/2 Ultra-Highspeed SHO and RGB filters.
Integration time: 24h 15′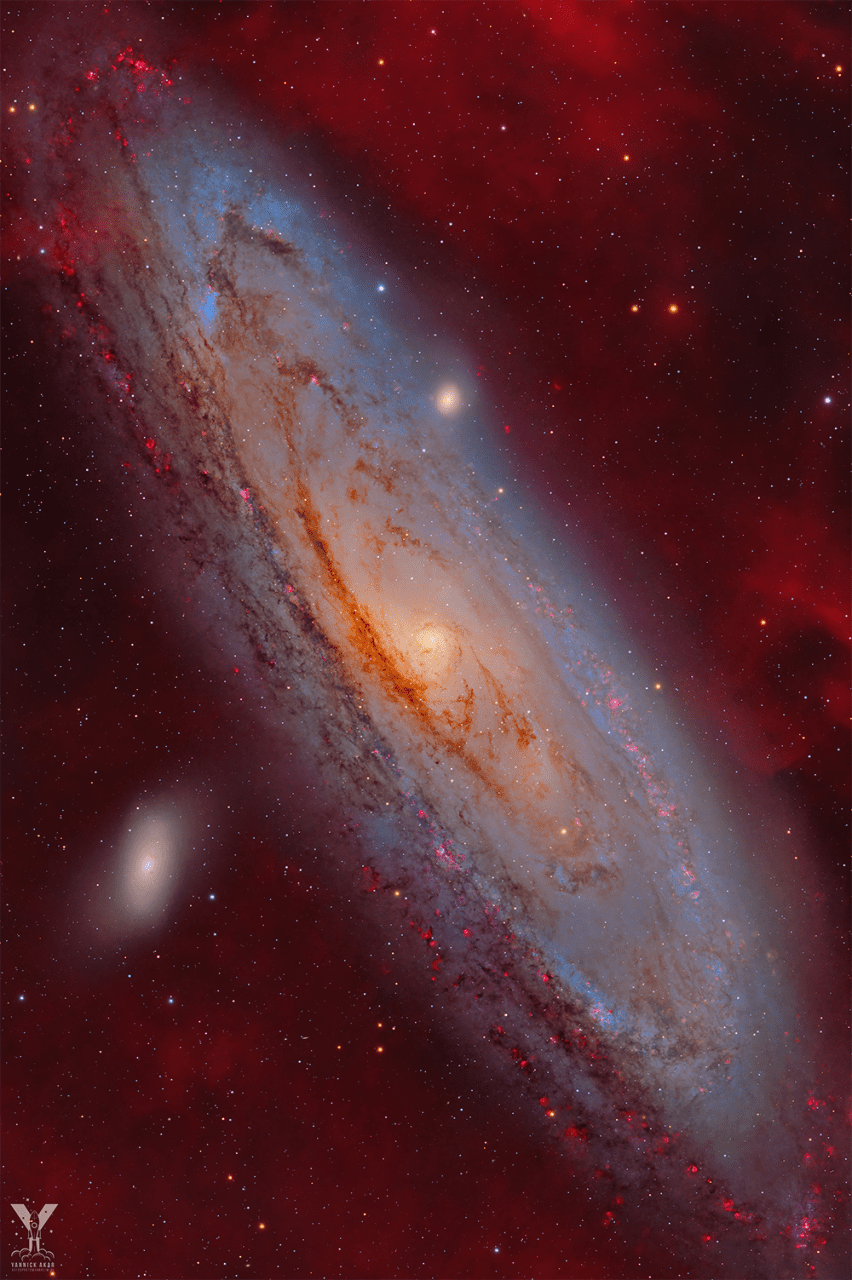 M31 – Clouds of Andromeda, Astrobin Image of the day (03/12/2023)
Celestron RASA 11", QHY268M, iOptron CEM60, Baader f/2 Ultra-Highspeed SHO and RGB filters.
Integration time: 28h 35′
I live under heavy light pollution (Bortle 6-7), so I almost always shoot in Narrowband only. My primary rig is mainly equipped with the following optics and accessories:
Telescope: Celestron RASA11″
Camera: QHYCCD 268M
Mount: iOptron CEM60
Filter: Baader f/2 Ultra-Highspeed Narrowband and Baader Broadband Filters in 50x50mm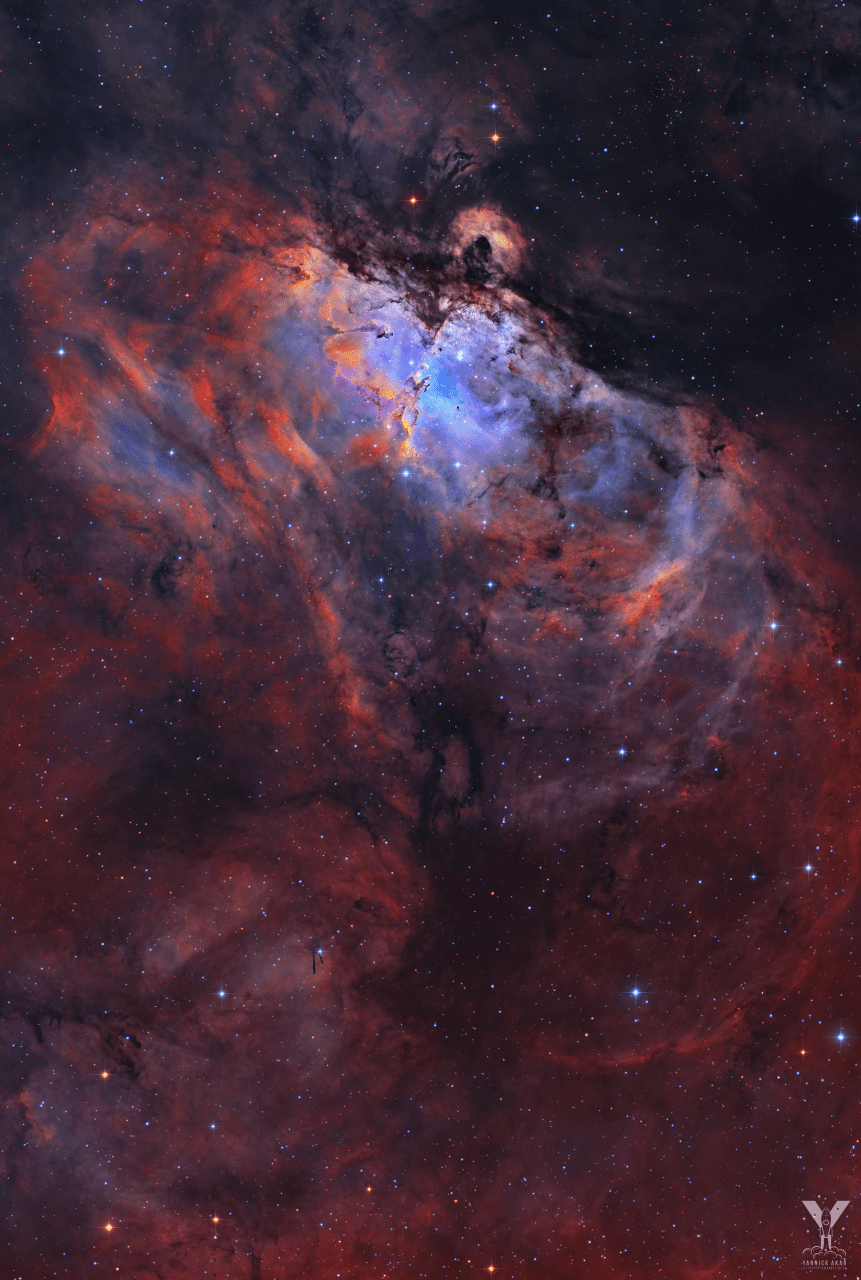 【M16 – The Eagle Nebula】NASA APOD
Astrophotographer: Yannick Akar
Celestron RASA 11″ V2, QHYCCD QHY268PH M, iOptron CEM60
Integration: 21h 59′
Check all the full-resolution images on Yannick Akar's Astrobin page: https://www.astrobin.com/users/dotexplore/
As it's all false color anyway I'm very free with the way I'm able to present different targets. For me the ultimate goal in this hobby is not really about gathering or showing scientific material (there is plenty of professional material anyway), but more about creating pretty and interesting pictures, that others like to look at.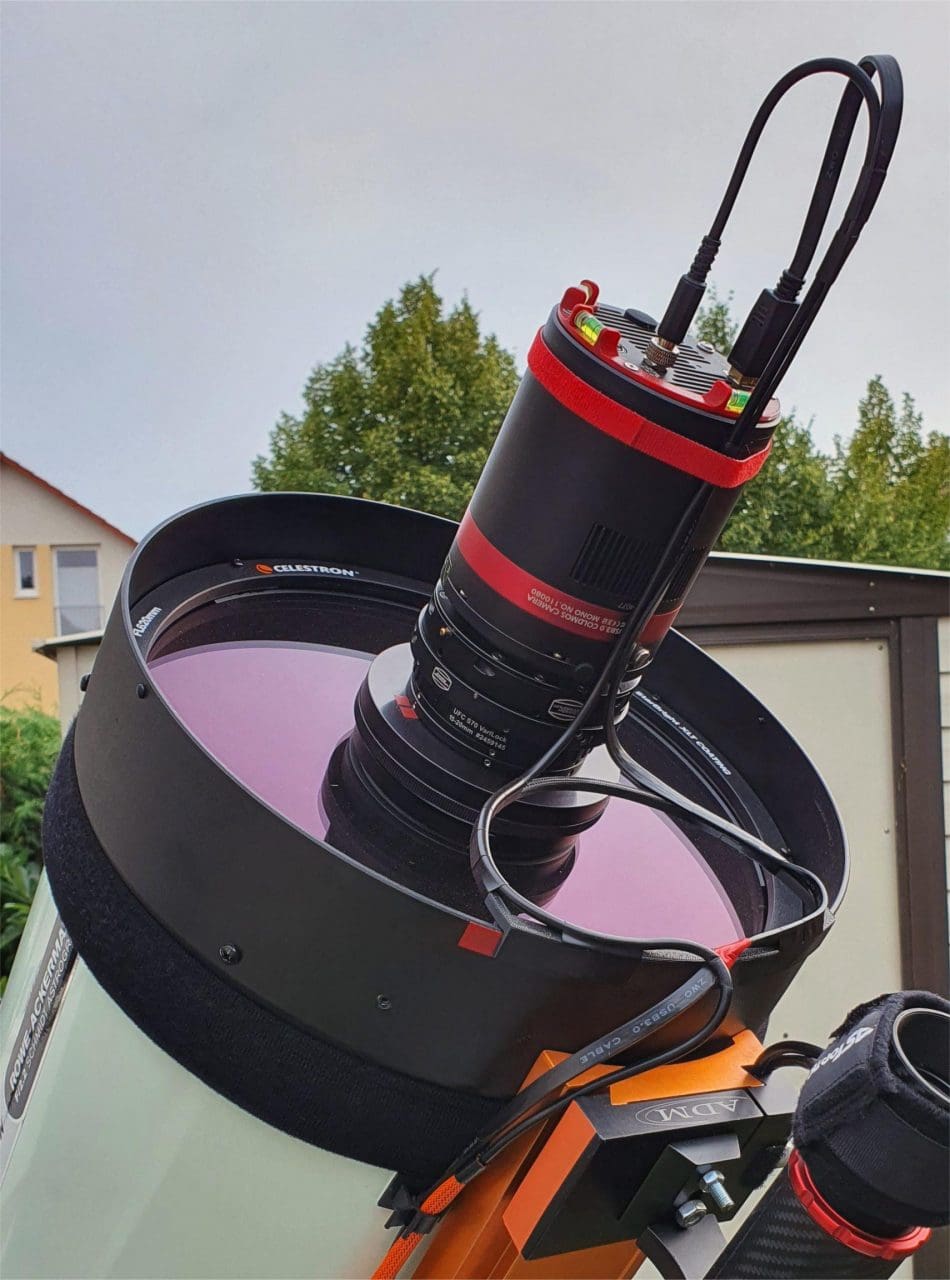 I think post-processing is one of the most important and fun parts in astrophotography, so I often spend countless hours on processing. It all depends on the captured data I'm able work with and the difficulty of the object itself. On the Popped Balloon Nebula the time for post-processing without the stacking step was more on the easy side with around 25 hours, on the California Nebula and the Flying Bat/Squid Nebula, processing took around the 35-45 hour mark.
In my experience, the most important part in processing is the stage of image calibration and integration by selecting only the best images of a night of imaging followed by Deconvolution and noise reduction. Also a very important step about processing an image is to decide when it's done and not to totally overprocess it!
Besides the fascination of making something visible that is invisible to our naked eye, it is also a way to incorporate my technical skills in editing and my creativity in rendering and processing. This way I create a wonderful connection between what I do professionally anyway and my passion for astrophotography.
My goals for the coming years are definitely upgrading to an even bigger sensor, the QHY600M seems to be the perfect fit for the Celestron RASA 11" and I finally want to image the Andromeda Galaxy with f/2 power and some more faint and rarely imaged nebulae. A big thanks to the QHYCCD Team for the great support so far!