QHYCCD design and manufacture world-leading astronomical Cooling and Non-cooling, CMOS and CCD cameras, including Deepsky Object Photography (DSO imaging) cameras, Planetary cameras, Polar Calibration Gears(PolarMaster), ranging from amateur level to professional level. QHYCCD also provide advanced scientific cameras for astronomy researches. Our goal is to provide the best products and services for astronomers worldwide.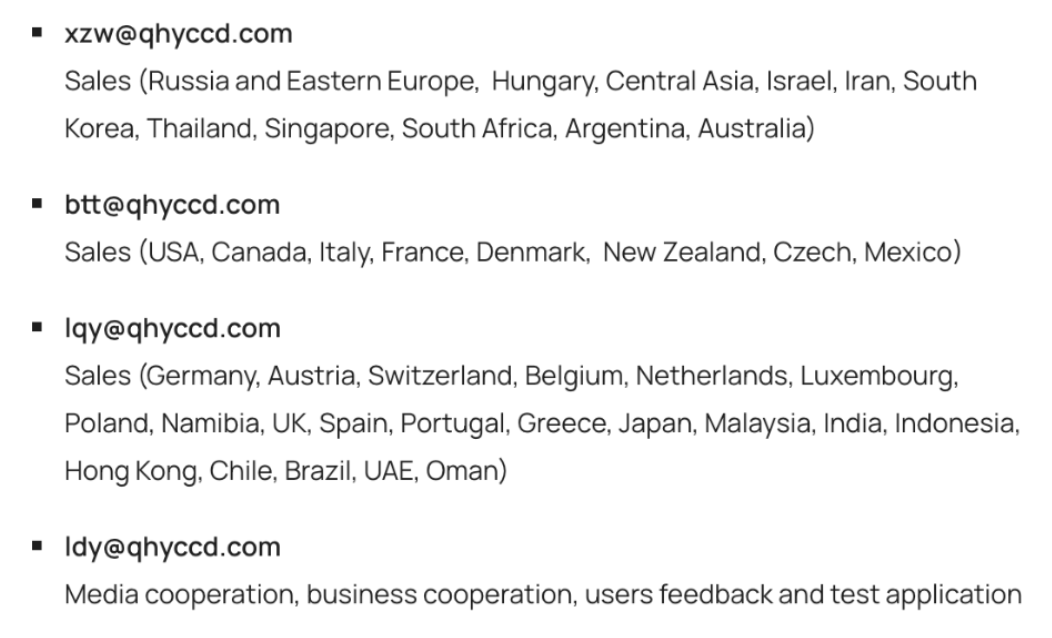 QHYCCD, founded by Qiu Hongyun, Ph.D., produced China's first CCD cameras for astronomical observations in 2003. Despite the increased pressure of competition from established manufacturers, QHYCCD continued to develop and produce larger and more capable cameras contributing to its rise in popularity not only in China but also in the U.S. and Europe over the ensuing years. In less than 10 years, the QHY line expanded to about a dozen models. Today satisfied QHY customers include the LAMOST Observatory with eight QHY45 cameras on the largest optical telescope in China (4 meters).
Unlike some companies that primarily offer one type of camera, either CCD or CMOS, QHYCCD has expertise in development of both types, large and small. The broad product line of QHYCCD, with cameras costing over $40,000 to as little as $99, means that there is a high quality scientific grade camera available for nearly any budget or application. As many amateur astronomers can testify, QHY cameras have been usedby amateurs for nearly 20 years with satisfaction and success. "If you want to buy the same performance (in other products) some prices are twice as much as QHYCCD. And even compared to those products costing more than twice as much, QHYCCD is not inferior."
Many amateurs are performing research and contributing to science in the field of astronomy. However, unlike professionals, the vast majority of amateur astronomers, particularly in the United States and Europe, take images for aesthetic reasons rather than scientific research or discovery. Overwhelming evidence of the use of QHY cameras for aesthetic astro-imaging can be found on the QHY Flickr group. The extraordinarily low noise and high sensitivity of QHY CMOS cameras has made them the camera of choice for planetary imaging where stacking and processing numerous frames tremendously improves the image.
Whether you are a professional astronomer or an amateur, doing research or taking aesthetic images, QHYCCD has a solution that will help you. With nearly 20 years of experience, QHY has the expertise to provide a quality product for just about any need.
Dr. Qiu Hongyun was born in 1977 in Weiyuan City, Sichuan Province, China. He graduated from Weiyuan middle school in 1996 and attended Tsinghua University in Beijing where he received a BS degree in Materials Science in 2000. He continued his postgraduate studies at Tsinghua University and received a PhD in Optical Science and Engineering in 2007. In 2009 he founded Beijing Star Sense Scientific Co., Ltd., and was CEO from 2009 to 2012. The company was renamed in 2012 to Light Speed Vision (Beijing) Co., Ltd., (QHYCCD). In 2013 Dr. Qiu was admitted to Harvard University for post-doctoral work and he moved to the United States from 2013 to 2015. His research topic was the design and structure of a light system for three dimensional imaging, and the implementation of noise reduction in both hardware and software. He applied low noise readout technology to the high speed CCD design for a high speed structured light system and worked with other group members to research the algorithm for noise reduction in the 3D image reconstruction and an increase in the precision of high speed real time 3D measurements. In 2015 he returned to Beijing where he remains today, working as CEO of Light Speed Vision (Beijing) Co., Ltd., (QHYCCD) designing and producing scientific CCD and CMOS cameras for astronomy, science and industry.