QHYCCD: Hi Jacob! We're very pleased to invite you for this interview. We really like works you took with QHY camera. So, let everyone know more about you. Please give us a brief introduction of yourself.  Jacob Heppell Astrophotography QHY268M QHYCCD
Jacob Heppell: I'm a born and breed Aussie (born 1988) who grew up in the beautiful dark skies of country Victoria. At the time, I was limited to a pair of binoculars, a star chart and few books.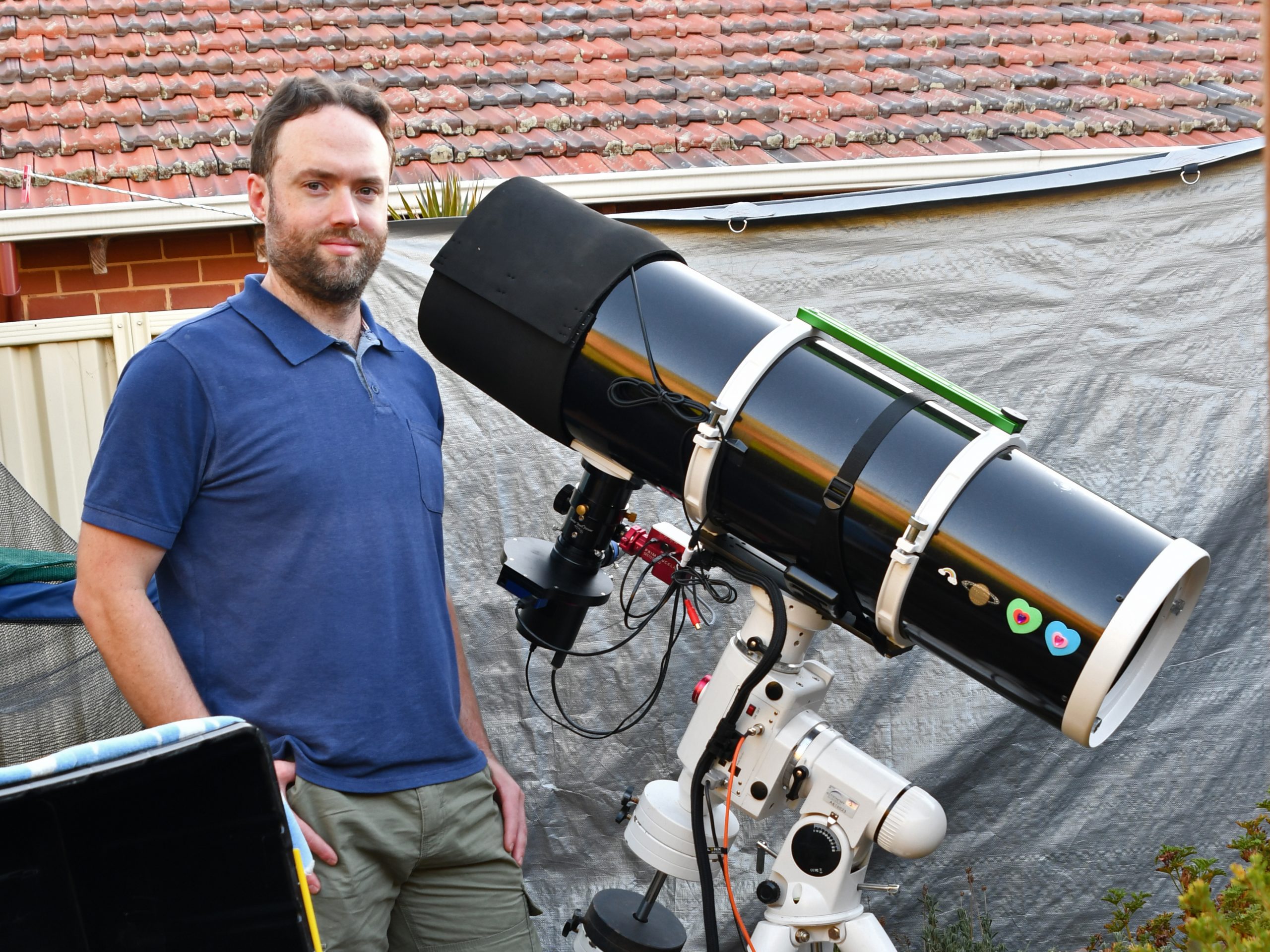 It wasn't until a few years after I moved to Perth WA for work in 2016, after completing my PhD, that I looked into astronomy a bit more. I dipped my toe in the water with 8" goto dobsonain. Initially, I wasn't intending to do astrophotography but when I attached my DSLR to the scope and saw the images I was hooked!
So, about a year down the track I decided that, if I'm going to continue with astrophotography, I need to buy a setup dedicated to this purpose. I really liked the Newtonian telescope format so decided to buy a Skywatcher 250 F4 Quattro, which was mounted on a NEQ6 equatorial mount.
Initially, I continued with the DSLR as dedicated astronomy cameras were beyond my initial budget at the time but with the emergence of an APS-C CMOS monochrome camera (QHY 268M), I decided it was time to ditch the DSLR and go the dedicated astronomy camera route.
My inner city life limits backyard imaging to narrowband but every clear new moon weekend, I can be found at one of several dark-sky locations outside the city imaging deep-space objects that are otherwise impractical to image under light-polluted city skies.
QHYCCD: You have shot so many great images, which one is your favorite?
Jacob Heppell: Hard to choose a single favorite as each target is unique in its own right. At the moment it would be my Hubble palette image of the Gabriela Mistral Nebula but my Hubble palette image of the Lagoon nebula is a close second. Although some of the projects I have in the pipeline now will likely become my new favorites!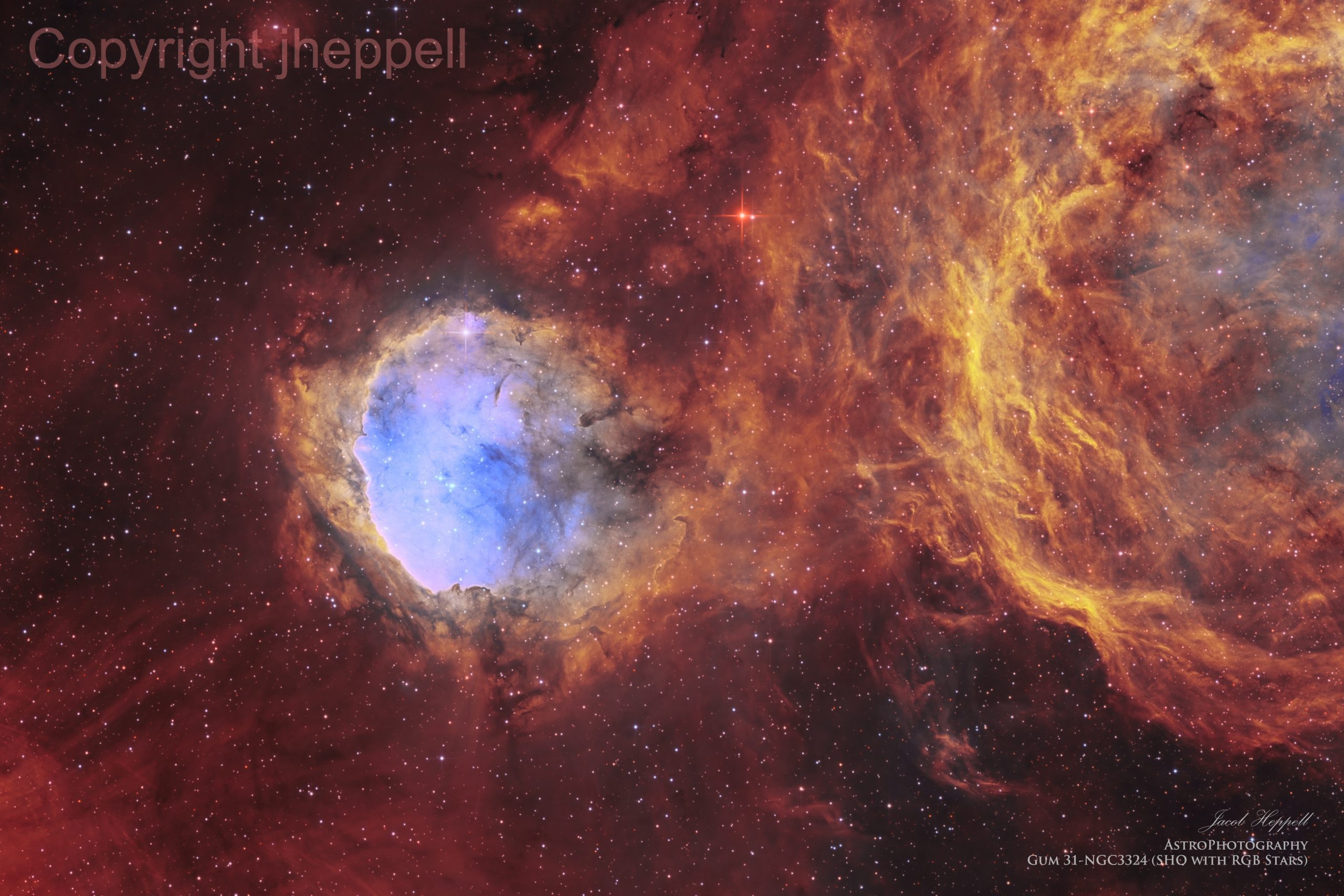 [Gabriela Mistral Nebula (Gum 31/IC2599, NGC 3324) in SHO with RGB stars]
Imaging Telescopes Or Lenses: Sky-Watcher Quattro 250P
Imaging Cameras: QHYCCD QHY268PH M 
Mounts: Sky-Watcher NEQ6-Pro 
Filters: Antlia 3nm Narrowband Oxygen III · Antlia 3nm Narrowband Sulfur II · Antlia Blue Pro · Antlia Green Pro · Antlia Red Pro · Antlia 3nm Pro Ha 36mm
Accessories: QHYCCD QHYCFW3-M  · QHYCCD QHYOAG-M  · TeleVue 2″ Paracorr Type-2 (VIP-2010) 
Software: Adobe Photoshop · Cor Berrevoets et al. Registax · Sequence Generator Pro · PHD2 · DeepSkyStacker
Guiding Cameras: QHYCCD QHY5III290M 
Frames:
Integration:38h 15′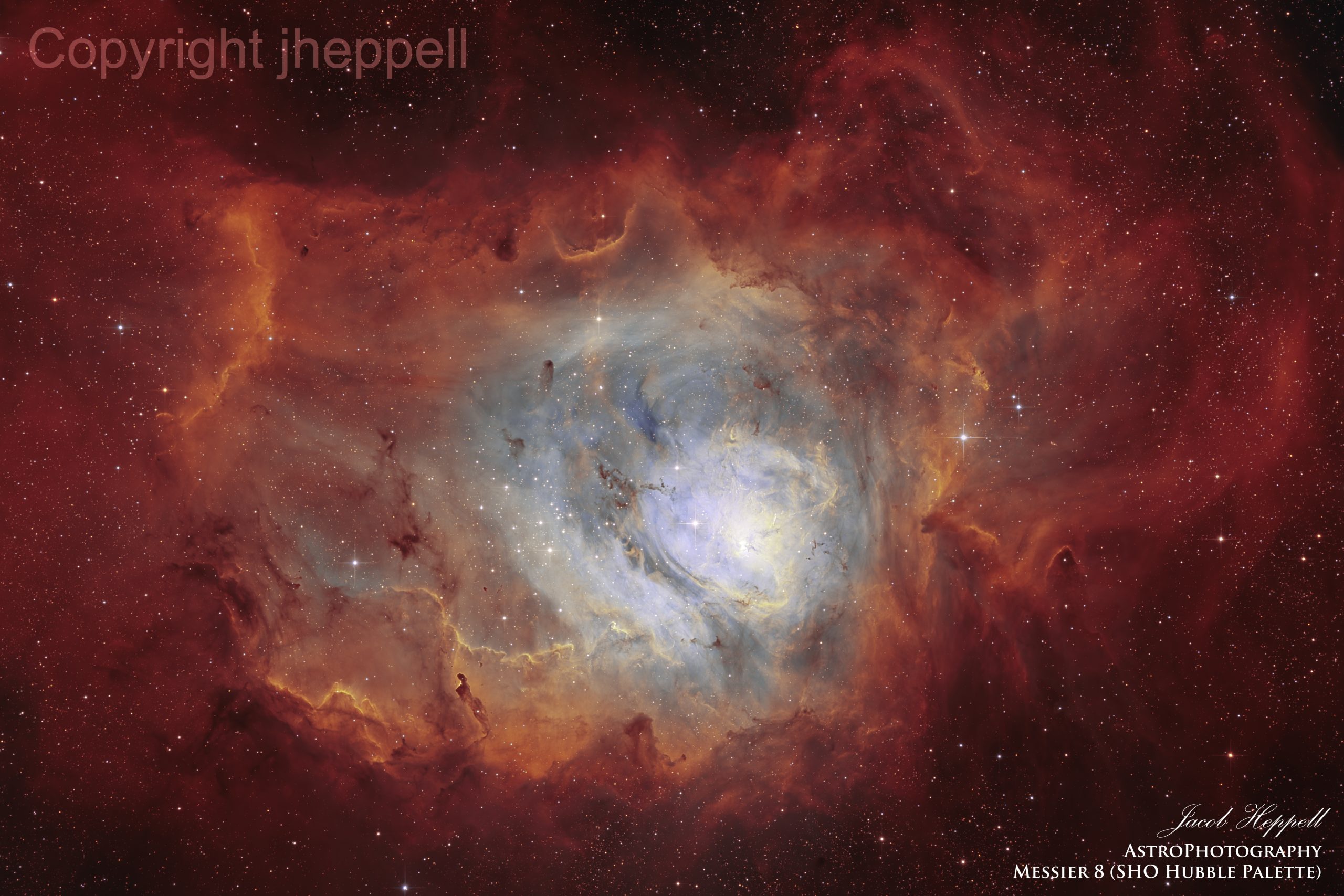 Messier 8 (Lagoon Nebula) in Ha[OIII] Bicolor
Imaging Lens or TelesvSky-Watcher Quattro 250P 
Imaging Cameras: QHYCCD QHY268PH M 
Filters: Antlia 3nm Narrowband Oxygen III · Antlia 3nm Pro Ha 36mm
Accessories: Sky-Watcher Quattro Coma Corrector 
Software: Adobe Photoshop · Cor Berrevoets et al. Registax · PHD2
Guiding Cameras: QHYCCD QHY5III290M 
Frames: 122×300″
(10h 10′)
Integration:10h 10′
More images of me: https://www.astrobin.com/users/jheppell/
QHYCCD: Could you share some experience in image post-processing?
Jacob Heppell: That's a deep rabbit hole! At the moment the calibration, aligning and stacking is done between Deep Sky Stacker and Registar. All post processing is done in Photoshop (with a number of astro-specific plugins). Over the last two to three years, I've gradually refined my post-processing technique to a point where I can consistently get the results I like while getting the most out the data. An early lesson for me is to work within the limits of your data (resolution, SNR) and not get overzealous with the processing. Often works out better being a little conservative than to "overbake the cake".
QHYCCD: What QHY products do you own? What are the reasons for choosing them?
Jacob Heppell: My camera (QHY268M), filter wheel (QHYCFW3-M-US), off-axis guider (QHYOAG-M), and guide camera (QHY5III290M) are all QHY products. I choose QHY when the 268M was released because I wanted to use an APS-C monochrome camera when I upgraded from the DSLR (Canon 250D) plus the brand was well reputed with some of the more advanced astrophotographers I know. All items other than the 268M were chosen probably more for practical reasons, such as avoiding the need for adapters that chew up the back focus requirement of the coma corrector. Nonetheless, I've been very pleased with all the QHY accessories.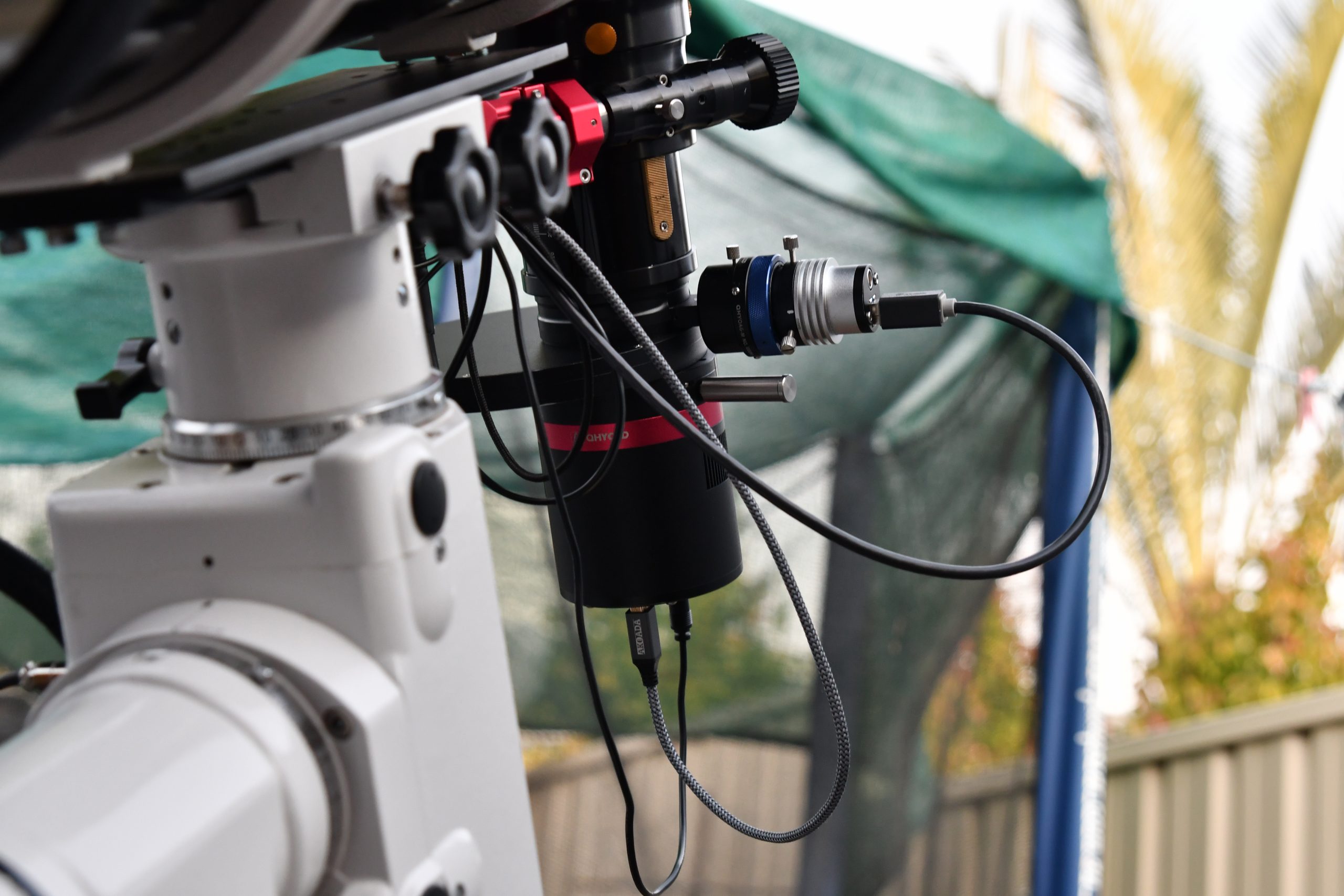 QHYCCD: How long have you been using QHY cameras?
Jacob Heppell: I made the switch from the DSLR to the QHY268M (plus accessories) in early 2021. It was the most significant upgrade I ever made and it really took my imaging to a whole new level!
QHYCCD: Astronomy is not easy to do well, do you have any advice for people who are just starting out in astrophotography?
Jacob Heppell: A few things. First be patient; this hobby really is a long game and skills will be gradually built up over time. Secondly, mingling among the much more experienced astrophotographers is a good way to gain knowledge quickly and avoid some common pitfalls; especially if you are yet to make to make any big purchasing decisions.
QHYCCD: Do you take your families with you when you go shooting?
At the moment, my family doesn't come out with me to my dark sky locations. They're not nearly as enthusiastic as I am plus the car doesn't have the space to fit all my gear and the family. But every few months I run a family astronomy night at a local park for my family, and any interested locals, to look at the moon, planets and bright DSO's through my visual telescope (8" goto dobsonian).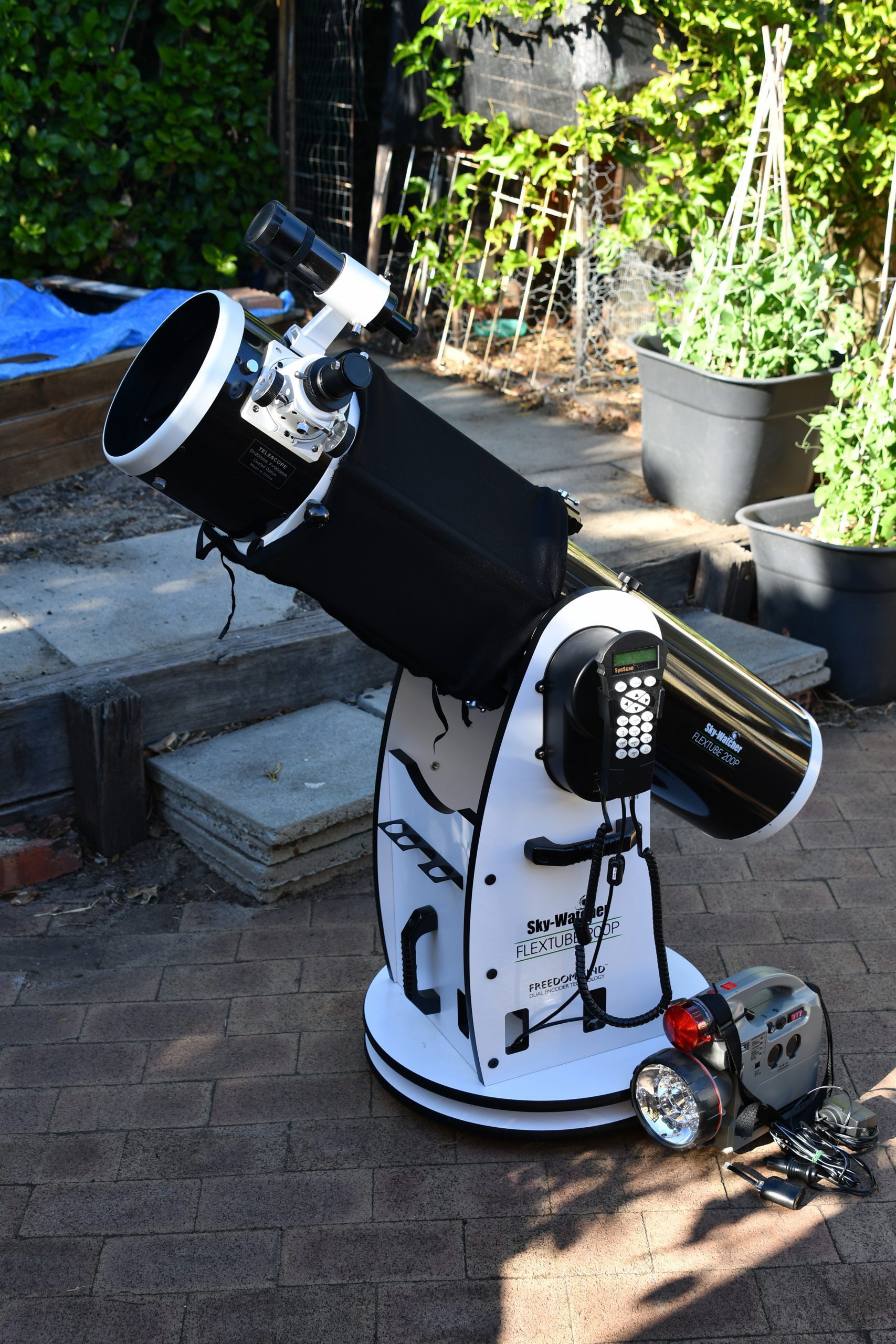 QHYCCD: What does astrophotography mean to you?
Jacob Heppell: Primarily it's a special interest that isn't my main job but still utilizes my innate technical mind. Plus I genuinely get a lot of enjoyment and social interactions from the hobby. A real labor of love and always awe-inspiring when I image and process a DSO to reveal all its glory!
QHYCCD: Any other hobbies?
Jacob Heppell: For the most part not really but I do have a collection of various Rubik's cube that myself and my daughter like to play with and solve.