The QHY42PRO-BSI uses the Gsense400 Scientific CMOS sensor with extraordinary 95% peak QE, 79% UV QE, and very good NIR response, plus an extremely low read noise of 1.7e-.  The QHY42 has relatively large 11um pixels in a 2k x 2k array.  The sensor size is 22.5mm x 22.5mm yielding a good field of view even at longer focal lengths. This camera is ideal for astronomical and biological science research.
QHYCCD also supplies the QHY42PRO-FSI version.
*Please contact QHYCCD about the price.
Overview
The standard version has 2-stage TE cooling and a USB3.0 interface. The camera has three readout modes: single 12bit high gain channel output, single 12bit low gain channel output. Dual 12bit high gain and low gain output mode.  Single channel output is 24FPS at 12-bits.  Dual-channel HDR output is 12FPS at 12-bits.
QHY42PRO has the GPS / Trig Signal interface. It can output the precise exposure starting/ending waveform for external measurement.  It can also connect with QHYCCD GPS-BOX to measure it. The QHYCCD GPS-BOX will output the timestamp onto the image head of each frame.
Models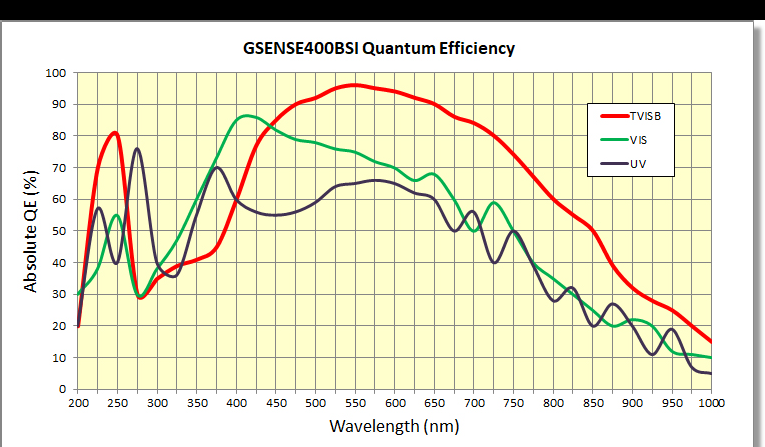 The QHY42PRO is a cooled scientific CMOS camera with extremely low (1.6e-) read noise. We also offer the QHY42-BSI in a UV enhanced version. The sensor array is 2048 x 2048 with relatively large 11um pixels and 89ke- full well capacity. The QHY42PRO is capable of high frame rates up to 24FPS at full resolution.
For BSI verson, there is three type of the coating of the sensor. TVBIS,UV,VIS. The TVBIS is the most popular type and it has the best QE of 95%. The UV version has a peak QE of 76% on the 275nm.  While the TVBIS version has also a high UV QE at 240nm. For UV application. Both TVISB and UV is possible to be use. You can select it according the QE curve. And the TVISB version has lower dark current than UV version. VIS version is not so popular and sometimes the sensor factory does no stock. So if you need the VIS version you need to quote QHYCCD for details.
The first version QHY42 is released in early 2018. And now we will release the enhanced version QHY42PRO. The different of QHY42 and QHY42PRO is that QHY42 only support the single ADC channel output (which called STD mode in the datasheet of Gsense400 , and 24FPS for 8bit/12bit . While the QHY42PRO support both STD mode and the dual channel ADC mode (HDR mode). The dual ADC can work together to sample the same pixels. And output two images. One is high gain and another is low gain. Which can enlarge the dynamic of the output data. The QH42PRO HDR mode will output the 4096*2048 image. Which consist two 2048*2048 image.   QHY42PRO also support the remote FPGA upgrade function via USB port. In future if there is any upgrade of the FPGA code, you can upgrade it directly without send back to factory to upgrade.
Specifications
Model
QHY42PRO-BSI / QHY42PRO-UV /QHY42PRO-FSI
COMS Sensor
Gpixel GSENSE400 BSI / UV / FSI
Pixel Size
11um x 11um
Sensor Surface Glass
Clear Glass / UV enhanced AR coating
Effective Pixel Area
2048 x 2048
Effective Pixels
4 Megapixels
Effective Image Area
22.5mm x 22.5mm
Fullwell
89ke-
A/D
Dual 12-bit A/D (High Gain Channel and Low Gain Channel) *

Note: The QHY42 camera in stock is single channel outputs, it support 2048*2048 8/12bit single channel image output. The QHY42PRO camera has dual ADC channel with 2048*2*2048 8/12bit HDR image output.  The QHY42 user can be upgraded without cost after QHY42PRO released.

Sensor Size
Typical 2-inch
Full Frame Rate and ROI Frame Rate
QHY42
24FPS@2048*2048 12bit (STD mode)
24FPS@2048*2048 8bit  (STD mode)QHY42PRO
24FPS@4096*2048 dual 8bit  (HDR mode)
12FPS@4096*2048 dual 12BIT (HDR mode)
48FPS@2048*2048 8bit (STD mode)
24FPS@2048*2048 12BIT (STD mode)
Readout Noise
1.7e-
Dark Current
TBD
Exposure Time Range
20us-300sec
Anti-Glow Control
Yes. Can be enabled and disabled. Significant Glow Reduction
Shutter Type
Electric Rolling Shutter
Computer Interface
USB3.0
Built-in Image Buffer
128MByte(512Mb) DDR2 memory in QHY42/PRO
Cooling System
Dual Stage TEC cooler(-35C below ambient)
Anti-Dew Heater
Yes
Telescope Interface
M54/0.75 female thread on the fast installer/center adjust ring
Optic Window Type
AR+AR High Quality Multi-Layer Anti-Reflection Coating
Back Focal Length
17.5mm(±0.5)
Weigth
735g
Camera Information
QHY42 Test Image by Dr.Martin Miller
The test results shows the high sensitivity of QHY42, especially in Ha wavelength, and the ultra low readout noise. results the high SNR image in short exposure time. Dr.Martin Miller says QHY42 has great potential in professional astronomy imaging.   See all of the test image and the parameter at  http://avvamhl.xobor.de/g90-Test-der-Scientific-QHY-CMOS-Kamera-p2.html
Der kometarische Nebel ist ein Reflexionsnebel, der sich durch den Aussfluss eine jungen Stern gebildet hat und von diesem angeleuchtet wird. 62 x 30 Sekunden, Gain 2, Offset 20, T= -22°C, 16″Mak, Sternwarte Hö, MartinMiller

Advanced Features
QHY42PRO Adanced Shutter Measurement
The QHY42PRO support the advanced Trig Out signal. Support both QHYCCD 4PIN , 5PIN , 6PIN GPIO port defination. These defination can be switched with the REG39. And there is a TrigOut output pulse enable resigster REG142, This regsiter is used to disable the output signal to avoid some unexpected signal output, like during the camera initialize, and mode change.
To active the QHY42PRO advanced Trig Out function, you need to upgrade the two FPGA firmware in the camera with:
FPGA_V20191118
MAX10_V20191120
REG39[3:0] GPIO Mode Switch Register.
0:I2C controlled GPIO signal output
1:QHYCCD GPS_BOX (6PIN)
2:5PIN
3: 4PIN
4: Multiple Camera Sync-Working mode . Master
5: Multiple Camera Sync-Working mode . Slave
6 to 15: Undefined
REG142 TrigEnable Control Resgister
0: Disable the Output pulse
1: Enable the Output pulse.
About 5PIN PORT
5PIN cable color define
| | | |
| --- | --- | --- |
| PIN NUMBER | COLOR | SIGNAL NAME |
| 1 | BLACK | Shutter Messurement |
| 2 | WHITE | N.A |
| 3 | GREY | LinePeriod |
| 4 | RED | TRIGOUT |
| 5 | BROWN | GND |
5PIN socket define (Face to the camera port side) and please note there is a red mark point.
Important Note:
The four IO in this port is the directly digital output , no opto-isolated. The IO standard is the 2.5V Level. High level is 2.5V. Low level is 0V. The 5pin is connected with the camera hardware with a ESD protec component. For the 5PIN I/O config, the four IO is directly output only. Please do not input any signal into it or connect it any voltage. Even it has ESD protect. But please take it carefully to avoid the static damage.
CAUTION:
Don't use the original open-drain connect method for it !!! Any voltage applied in these IO exceed 2.5V may damge the camera!!!!!
ShuterMessure Waveform
The shutterMessure waveform is the high precise waveform to indicate the begin/end exposure. Please note for QHY42PRO, it is the begin/end exposure of the ROW 0. The rising edge is the exposure beginning and the falling edge is the exposure ending. The width is the exposure time. You can connect the GPS messurement device to messure it directly. This waveform output support both Live video mode, Single mode and Burst mode
LinePeriod
For rolling shutter CMOS, you need to get to know the Line Period then you can calcuate other rows exposure time beginning and ending. With this formual:
The t(begin2) is the row 2 beginning time. So :
t(begin3)=t(begin2)+LinePeriod
t(begin4)=t(begin2)+2*LinePeriod
……….
The same as the t(end2)
The LinePeriod is a fixed value for all QHY42PRO cameras. So you only need to test one time.And write down of it. Please note in different SPEED setting . The LinePeriod will be not the same. Only SPEED setting will effect it. You can messure each SPEED setting and write down of it.
TrigOut (High Speed)
TrigOut singal is for normal messurement, not for high precise messurement. The TrigOut signal is the vertical Sync signal in the camera. It is a short pulse (the pulse is low level) . The falling edge of the TrigOut is close to end exposure of row 0 and the rising edge is nothing. This waveform output support both Live video mode, Single mode and Burst mode.
About SMA Trig In, Trig Out Port.
There is two SMA port on the camera. Trig In and Trig Out. Trig In is to input a hardware signal to trig the camera begin a capture in hardware. Trig Out is output the TrigOut signal or Shutter Measure signal or other signal. These two port is opto-isolated port and it is low speed port (due to the slow rising/falling edge of opto-isolater). But it has better ESD protect for the camera and suitable for longer cable.
REG39 BIT[7:6] Mode Switch Bit for TrigIn Port
0: ShutterMeasure Waveform Output
1: TrigOut (Vertical Sync) Output
2: Undefined
3: Undefined
REG39 BIT[5:4] Mode Switch Bit for TrigOut Port
0: Undefined
1: Undefined
2: Undefined
3: Undefined
Since the structure of the opto-isolator , the TrigOut port need have a pull up resistor to pull it up to a voltage. For example, 5kohm to connect to the 3.3V-12V.
For TrigIn, you can input a voltage with a current limitation resistor in series with it.
Sample WaveForm
LinePeriod Waveform in 5PIN port
TrigOut waveform in 5PIN Port

Shutter Measure Waveform in 5PIN PORT @ exposure time set to 20.0ms

Shutter Measure Waveform in 5PIN PORT @ exposure time set to 1.0ms

Reference Papers / Documents
Transit Measures with QHY42 Camera by Bruno Fontaine
Transit Measures with QHY 42 Camera   
QHY42 Test Image by Dr.Martin Miller
The test results shows the high sensitivity of QHY42, especially in Ha wavelength, and the ultra low readout noise. results the high SNR image in short exposure time. Dr.Martin Miller says QHY42 has great potential in professional astronomy imaging.   See all of the test image and the parameter at
QHY42 User: Northolt Branch Observatories
https://www.facebook.com/NBObservatories
QHY42 User:Irydeo Astronomical Observatory (MPC Z41)  
https://www.facebook.com/irydeoobs.obs