Sendhil Chinnasamy lives in Georgetown, Texas USA and got involved in amateur astrophotography since July 2020. He images from his Bortle 4 backyard using Sky-Watcher Espirit 100ED, Takahashi FSQ106ED, QHYCCD QHY600M, Chroma filters on Astrophysics 900GTO mount and processes his images using PixInsight.
Instagram – https://www.instagram.com/deepskyimaging/
Astrobin – https://www.astrobin.com/users/sendhilchinnasamy/
Featured below are some of his work.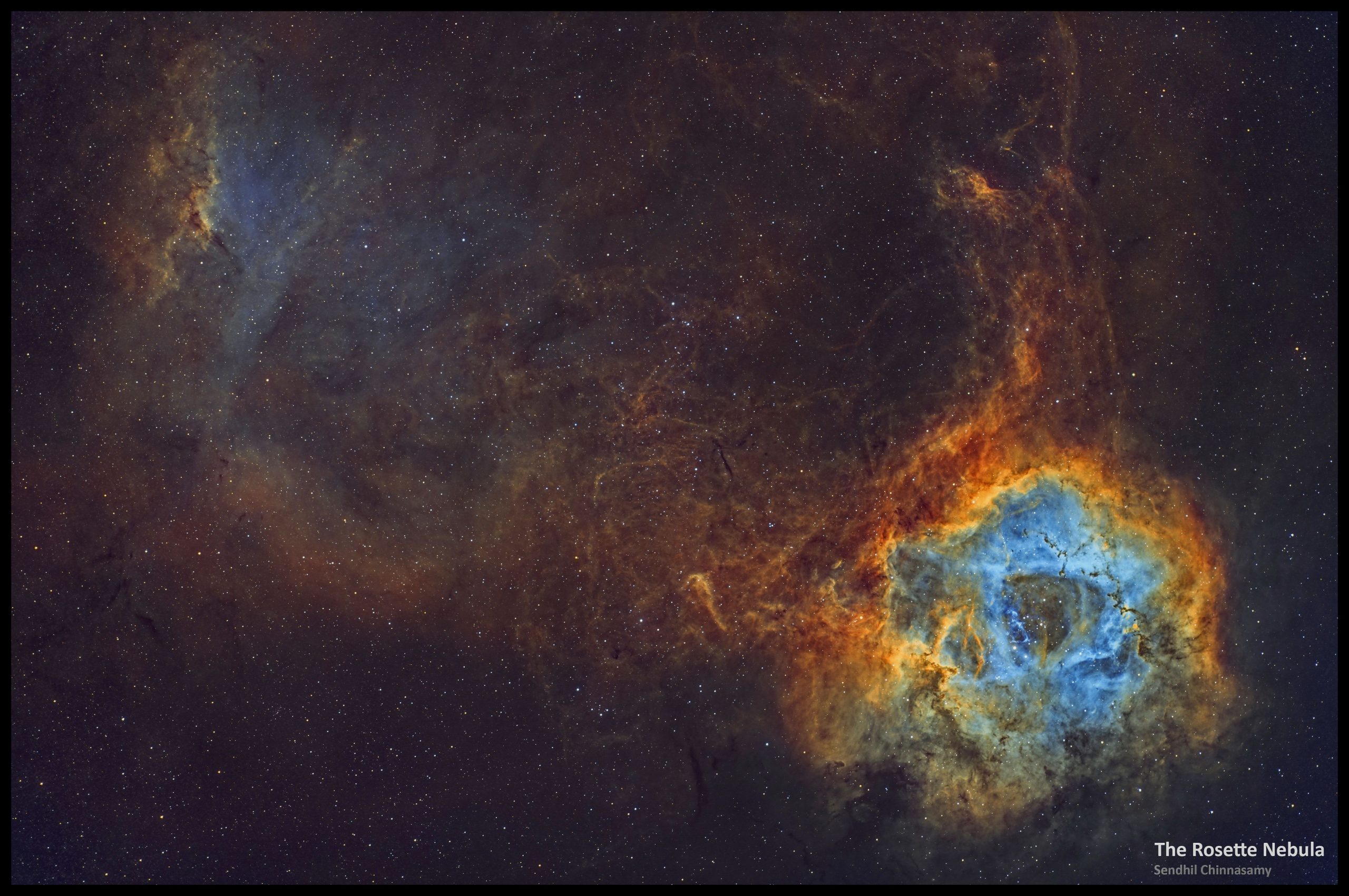 Rosette Nebula
Imaging telescopes or lenses: Sky-Watcher Espirit 100ED Super Apo
Imaging cameras: QHYCCD QHY600M
Mounts: Sky-Watcher EQ6 R pro
Guiding telescopes or lenses: Skywatcher Evoguide 50ED
Guiding cameras: ZWO 290MM Mini
Focal reducers: Riccardi 0.75x reducer/flattener
Software: Pleaides Astrophoto PixInsight 1.8.8-6
Filters: Chroma SII 3nm 50mm  ·  Chroma Ha 3nm 50mm  ·  Chroma 3nm Oiii 50mm
Accessory: Optec ThirdLynx DirectSync SVX30  ·  Gerd Neumann Camera Tilting Unit CTU-M48  ·  ZWO filter wheel
Frames:
Chroma 3nm Oiii 50mm: 24×600″ (4h) (gain: 26.00) -5C bin 1×1
Chroma Ha 3nm 50mm: 40×600″ (6h 40′) (gain: 26.00) -5C bin 1×1
Chroma SII 3nm 50mm: 22×600″ (3h 40′) (gain: 26.00) -17C bin 1×1
Chroma SII 3nm 50mm: 2×600″ (20′) (gain: 26.00) -5C bin 1×1
Integration: 14h 40′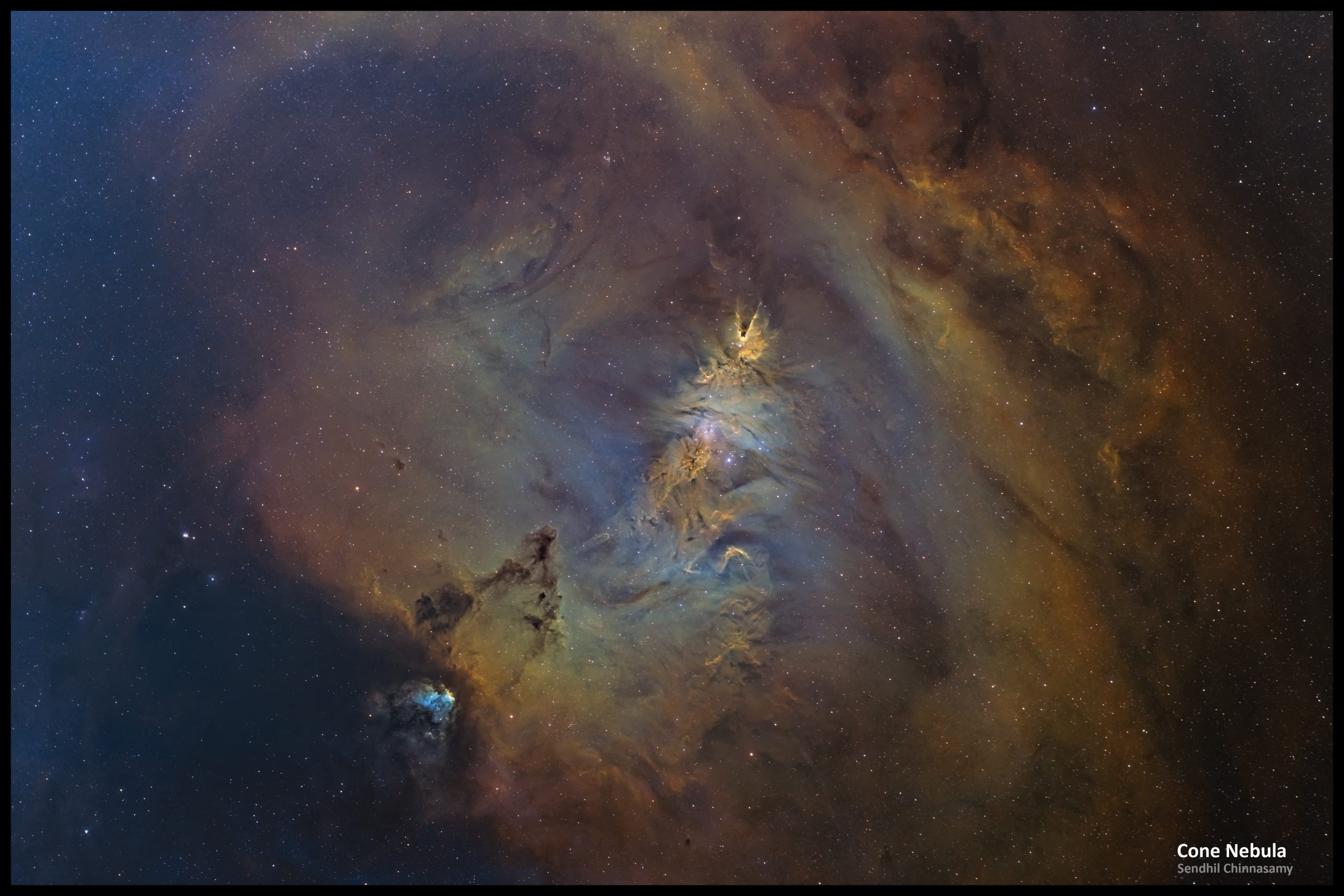 Cone Nebula
Imaging telescopes or lenses: Sky-Watcher Espirit 100ED Super Apo
Imaging cameras: QHYCCD QHY600M
Mounts: ASTRO-PHYSICS AP900 CP4
Guiding telescopes or lenses: Skywatcher Evoguide 50ED
Guiding cameras: ZWO 290MM Mini
Focal reducers: Riccardi 0.75x reducer/flattener
Software: Pleaides Astrophoto PixInsight 1.8.8-6
Filters: Chroma SII 3nm 50mm  ·  Chroma Ha 3nm 50mm  ·  Chroma 3nm Oiii 50mm
Accessory: Optec ThirdLynx DirectSync SVX30  ·  Optec Alnitak Flip-Flat Flat Fielder  ·  Pegasus Ultimate Power Box V2  ·  ZWO filter wheel
Frames:
Chroma 3nm Oiii 50mm: 18×900″ (4h 30′) (gain: 26.00) -5C bin 1×1
Chroma Ha 3nm 50mm: 10×900″ (2h 30′) (gain: 26.00) -5C bin 1×1
Chroma SII 3nm 50mm: 6×900″ (1h 30′) (gain: 26.00) -5C bin 1×1
Integration: 8h 30′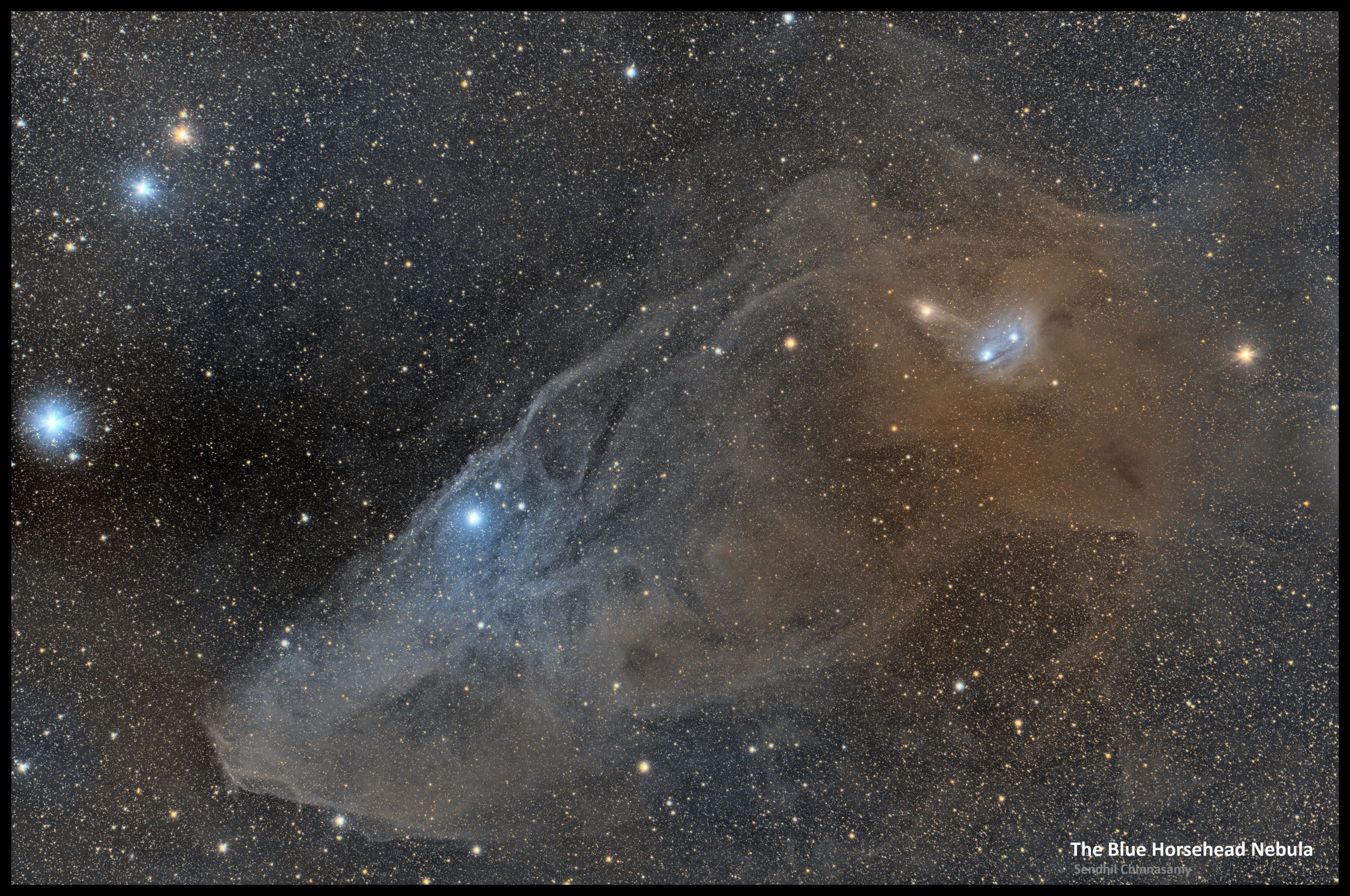 The Blue Horsehead Nebula
Imaging telescopes or lenses: Sky-Watcher Espirit 100ED Super Apo
Imaging cameras: QHYCCD QHY600M
Mounts: ASTRO-PHYSICS AP900 CP4
Guiding telescopes or lenses: Skywatcher Evoguide 50ED
Guiding cameras: ZWO 290MM Mini
Focal reducers: Riccardi 0.75x reducer/flattener
Software: Pleaides Astrophoto PixInsight 1.8.8-6
Filters: Chroma SII 3nm 50mm  ·  Chroma Ha 3nm 50mm  ·  Chroma 3nm Oiii 50mm
Accessory: Optec ThirdLynx DirectSync SVX30  ·  Optec Alnitak Flip-Flat Flat Fielder  ·  Pegasus Ultimate Power Box V2  ·  ZWO filter wheel
Frames:
Chroma Luminance 50mm: 72×600″ (12h) (gain: 26.00) -5C bin 1×1
Chroma Red 50mm: 6×600″ (1h) (gain: 26.00) -5C bin 1×1
Chroma Green 50mm: 6×600″ (1h) (gain: 26.00) -5C bin 1×1
Chroma Blue 50mm: 6×600″ (1h) (gain: 26.00) -5C bin 1×1
Integration: 8h 30′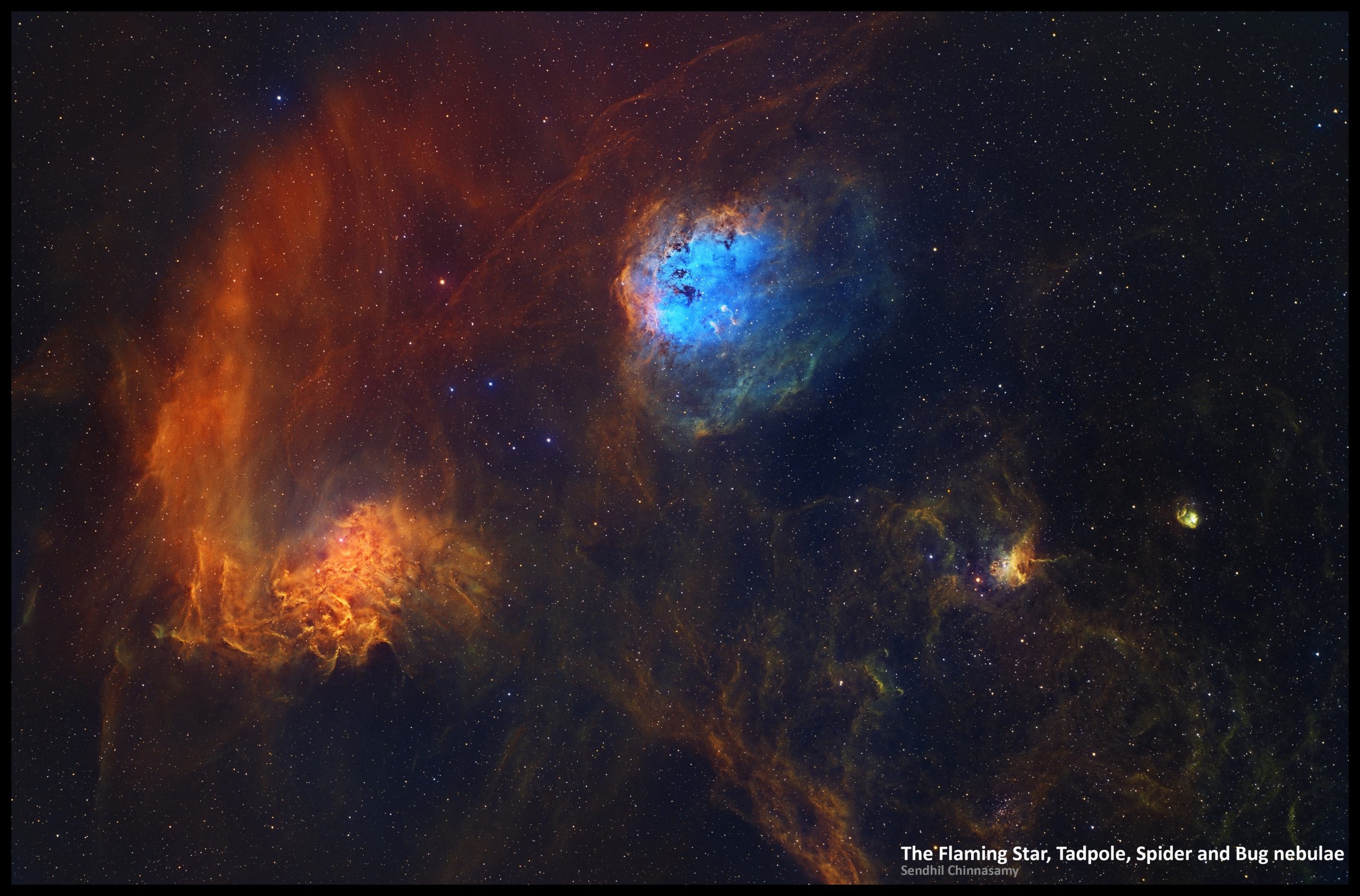 Flaming Star
Imaging telescopes or lenses: Sky-Watcher Espirit 100ED Super Apo
Imaging cameras: QHYCCD QHY600M
Mounts: Sky-Watcher EQ6 R pro
Guiding telescopes or lenses: Skywatcher Evoguide 50ED
Guiding cameras: ZWO 290MM Mini
Focal reducers: Riccardi 0.75x reducer/flattener
Software: Pleaides Astrophoto PixInsight 1.8.8-6
Filters: Chroma SII 3nm 50mm  ·  Chroma Ha 3nm 50mm  ·  Chroma 3nm Oiii 50mm
Accessory: Optec ThirdLynx DirectSync SVX30  ·  Gerd Neumann Camera Tilting Unit CTU-M48  ·  ZWO filter wheel
Frames:
Chroma 3nm Oiii 50mm: 13×900″ (3h 15′) (gain: 26.00) -5C bin 1×1
Chroma Ha 3nm 50mm: 36×900″ (9h) (gain: 26.00) -5C bin 1×1
Chroma SII 3nm 50mm: 38×900″ (9h 30′) (gain: 26.00) -5C bin 1×1
Integration: 21h 45′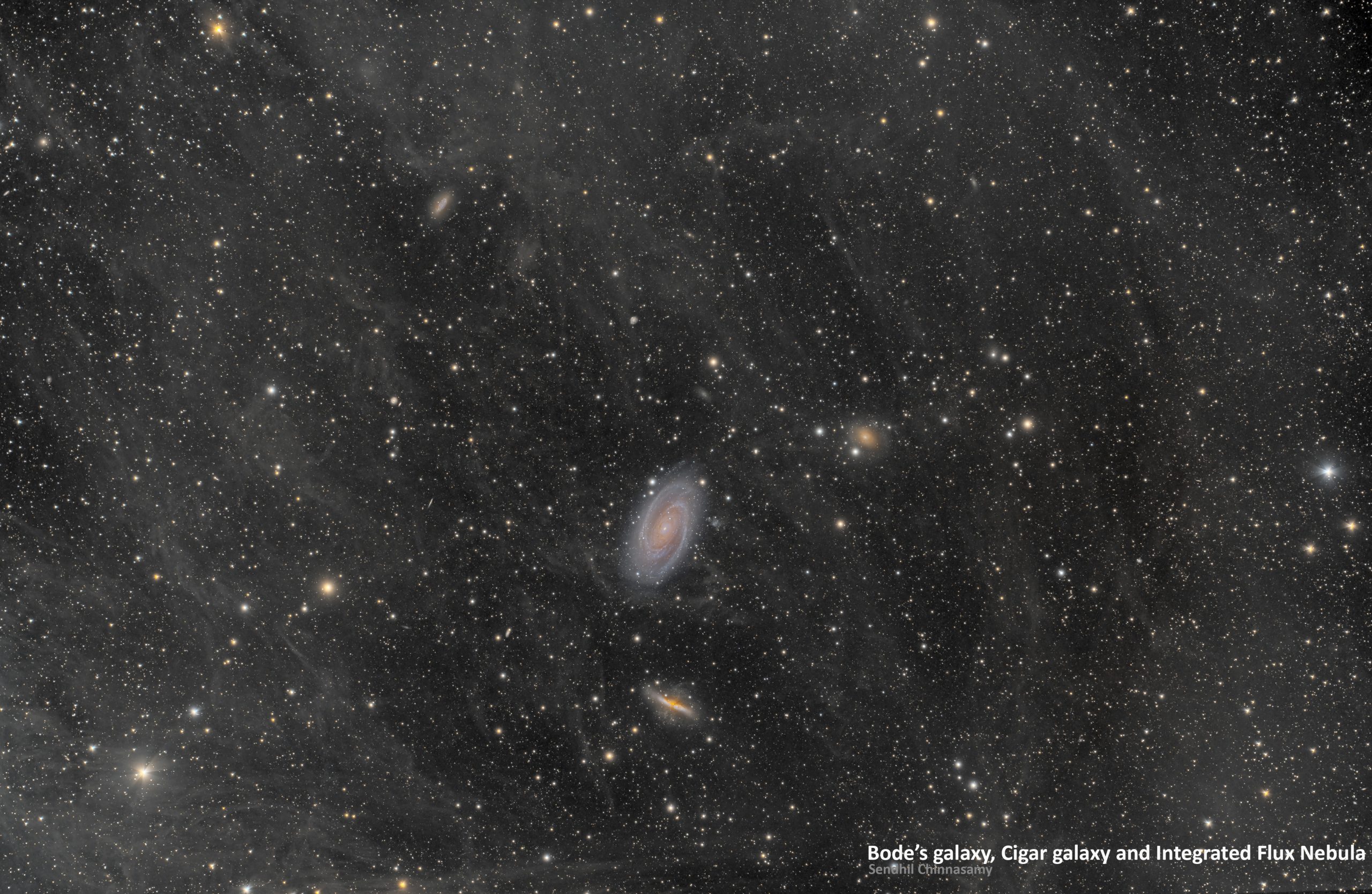 Bode's galaxy, Cigar galaxy and IFN
Imaging telescopes or lenses: Sky-Watcher Espirit 100ED Super Apo
Imaging cameras: QHYCCD QHY600M
Mounts: Sky-Watcher EQ6 R pro
Guiding telescopes or lenses: Skywatcher Evoguide 50ED
Guiding cameras: ZWO 290MM Mini
Focal reducers: Riccardi 0.75x reducer/flattener
Software: Pleaides Astrophoto PixInsight 1.8.8-6
Filters: Chroma Blue 50mm  ·  Chroma Green 50mm  ·  Chroma Red 50mm  ·  Chroma Luminance 50mm
Accessory: Optec ThirdLynx DirectSync SVX30  ·  ZWO filter wheel
Frames:
Chroma Luminance 50mm: 180×600″ (30h) (gain: 26.00) -5C bin 1×1
Chroma Blue 50mm: 36×600″ (6h) (gain: 26.00) -5C bin 1×1
Chroma Green 50mm: 36×600″ (6h) (gain: 26.00) -5C bin 1×1
Chroma Red 50mm: 36×600″ (6h) (gain: 26.00) -5C bin 1×1
Integration: 48h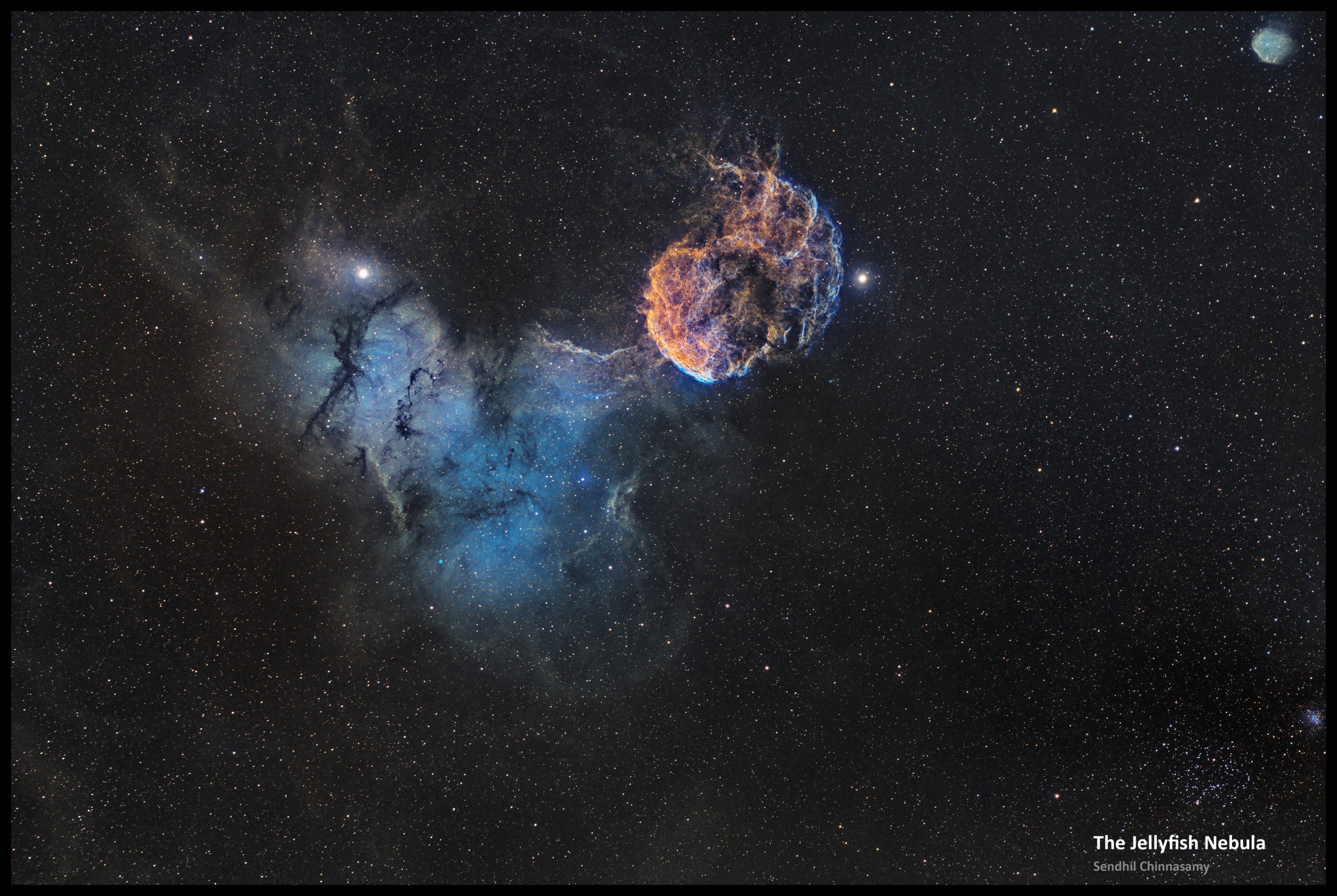 The Jellyfish Nebula
Imaging telescopes or lenses: Sky-Watcher Espirit 100ED Super Apo
Imaging cameras: QHYCCD QHY600M
Mounts: ASTRO-PHYSICS AP900 CP4  ·  Sky-Watcher EQ6 R pro
Guiding telescopes or lenses: Skywatcher Evoguide 50ED
Guiding cameras: ZWO 290MM Mini
Focal reducers: Riccardi 0.75x reducer/flattener
Software: Pleaides Astrophoto PixInsight 1.8.8-6
Filters: Chroma SII 3nm 50mm  ·  Chroma Ha 3nm 50mm  ·  Chroma 3nm Oiii 50mm
Accessory: Optec ThirdLynx DirectSync SVX30  ·  Optec Alnitak Flip-Flat Flat Fielder  ·  Pegasus Ultimate Power Box V2  ·  ZWO filter wheel
Frames:
Chroma 3nm Oiii 50mm: 32×900″ (8h) (gain: 26.00) -5C bin 1×1
Chroma Ha 3nm 50mm: 60×900″ (15h) (gain: 26.00) -5C bin 1×1
Chroma SII 3nm 50mm: 37×900″ (9h 15′) (gain: 26.00) -5C bin 1×1
Integration: 32h 15′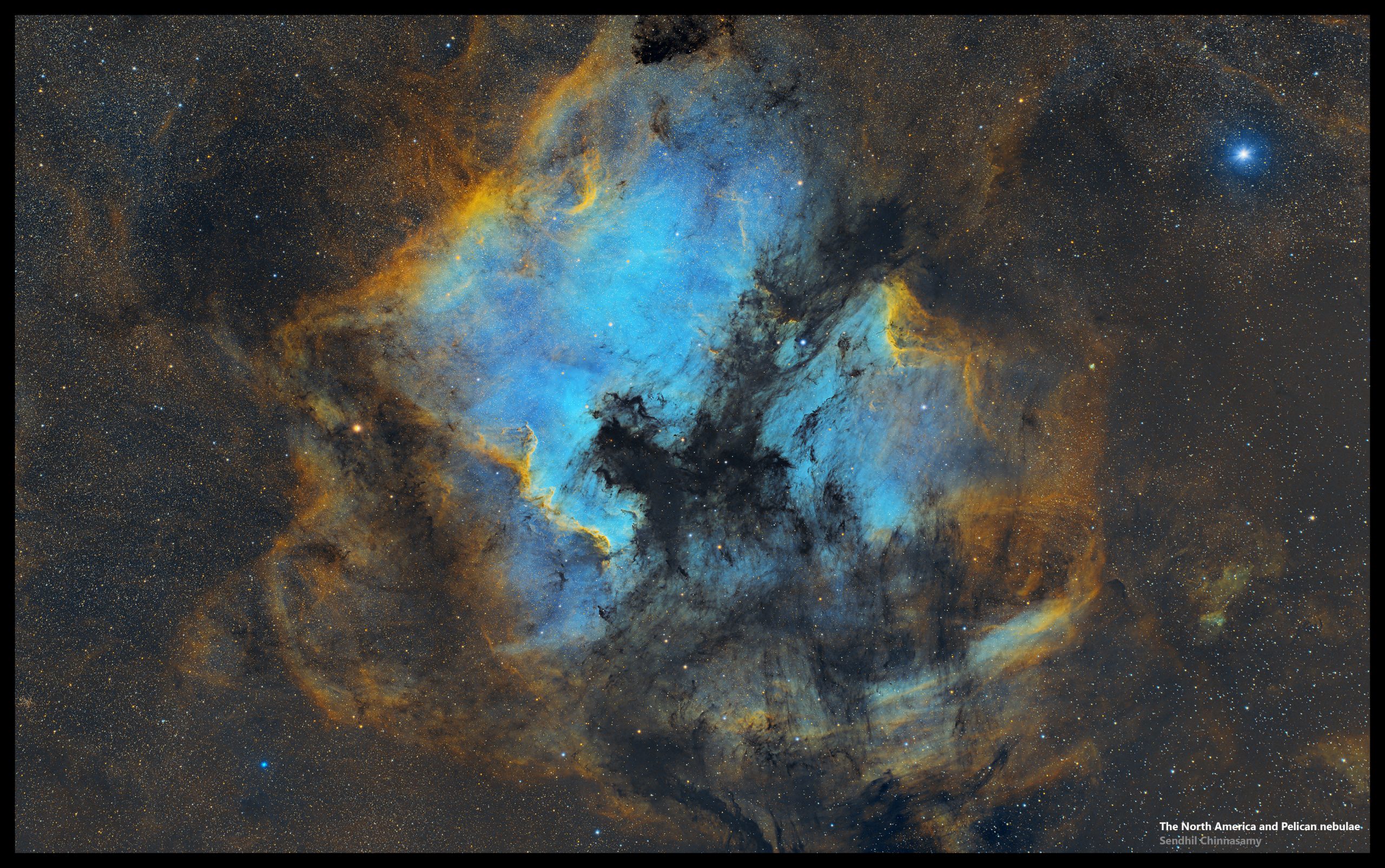 The North America and Pelican nebula
Imaging telescopes or lenses: TAKAHASHI FSQ-106ED
Imaging cameras: QHYCCD QHY600M
Mounts: ASTRO-PHYSICS AP900 CP4
Guiding telescopes or lenses: Skywatcher Evoguide 50ED
Guiding cameras: ZWO 290MM Mini
Focal reducers: Takahashi 0.6X F/3 Reducer
Software: Pleaides Astrophoto PixInsight 1.8.8-6
Filters: Chroma SII 3nm 50mm  ·  Chroma Ha 3nm 50mm  ·  Chroma 3nm Oiii 50mm
Accessory: Optec ThirdLynx DirectSync SVX30  ·  Optec Alnitak Flip-Flat Flat Fielder  ·  Pegasus Ultimate Power Box V2  ·  ZWO filter wheel
Frames:
Chroma 3nm Oiii 50mm: 6×900″ (1h 30′) (gain: 26.00) -5C bin 1×1
Chroma Ha 3nm 50mm: 10×900″ (2h 30′) (gain: 26.00) -5C bin 1×1
Chroma SII 3nm 50mm: 10×900″ (2h 30′) (gain: 26.00) -5C bin 1×1
Integration: 6h 30′