QHY600 FULL FRAME FORMAT SCIENTIFIC CMOS CAMERA SPECIFICATIONS

Model

QHY600U3G20 (Professional Version)
QHY600U3 (Photographic Version)

Image Sensor

SONY Full Frame BSI CMOS Sensor IMX455

Pixel Size

3.76um x 3.76um

Color / Mono Version

Both Available.QHY600U3G20M and QHY600U3G20C

Sensor Surface Glass

AR+AR Multi-Coating Glass

61.17 Megapixels


(9576*6388 effective area. 9600*6422 with overscan and optic black area)

Full Well Capacity (1x1, 2x2, 3x3)

>51ke- / >204ke- / >408ke-

16-bit (0-65535 greyscale) at 1X1 binning

18-bit at 2X2, 19-bit at 3X3, 20-bit at 4X4 software binning



*QHY600 uses the software digital binning for 2*2binning. With digital sum, 2*2binning will be four 16bit summed then it is 18bit.

Frame Rate

USB3.0 Port Image Transfer Speed

Full Frame Size: 4.0FPS (8-bit output)
Full Frame Size: 2.5FPS (16-bit output)
7.2FPS at 9600x3194, 22.5FPS at 9600x1080, 28FPS at 9600x768, 47FPS at 9600x480, 160FPS at 9600x100,

Fiber Port Image Transfer Speed (QHY600U3G20 only)

Full Frame Size: 4.0FPS (16-bit output)

Read Noise

1.0e- to 3.7e-

Dark Current

0.0032e/p/s @ -20C 0.0056e/p/s @ -10C

Exposure Time Range

40us - 3600sec

Firmware/FPGA remote Upgrade

Supported. Via Camera USB Port

Shutter Type

Electric Rolling Shutter

Computer Interface

USB3.0 / 2*10 Gigabit Fiber Port


(2*10Gigabit Fiber Port is professional version only)

Built-in Image Buffer

1GB(8Gbit)/ 2GB(16Gbit)DDR3 memory

Dual Stage TEC cooler
In long exposure (above 1sec) Typical -35C max delta below ambient
In short exposure (less than 1sec) Typical -30C max delta below ambient

Optic Window Type

AR+AR High Quality Multi-Layer Anti-Reflection Coating

Power

40W/100%
20W/50%
13.8W/0%

915g (not include the M54/0.75mm center/tilt adjust ring)

Reference Price (TAX not included)

Early Brid Price: USD5000 *
Professional Version: TBD
Photographic Version: TBD
Readout Mode is a new function for new QHY Cameras. Different Readout Mode have different driver timing etc and causes the different performance results. Each readout mode has its advantage and disadvantages. QHY600 currently has three readout modes. And in future QHYCCD may add more modes. The Readout mode currently supported by QHY ASCOM Camera Driver and SharpCAP software. You can find the list box in the software.
QHY600 Performance Curves in
Readout Mode #0 (Photographic Mode).
In this mode . Between Gain25 and Gain26, There is a readout noise drop position. We recommand to use the Gain26 for beginning. In Gain=26, the fullwell is 27ke and readout noise is 2.7e. For every long exposure. You can use lower gain to get better fullwell.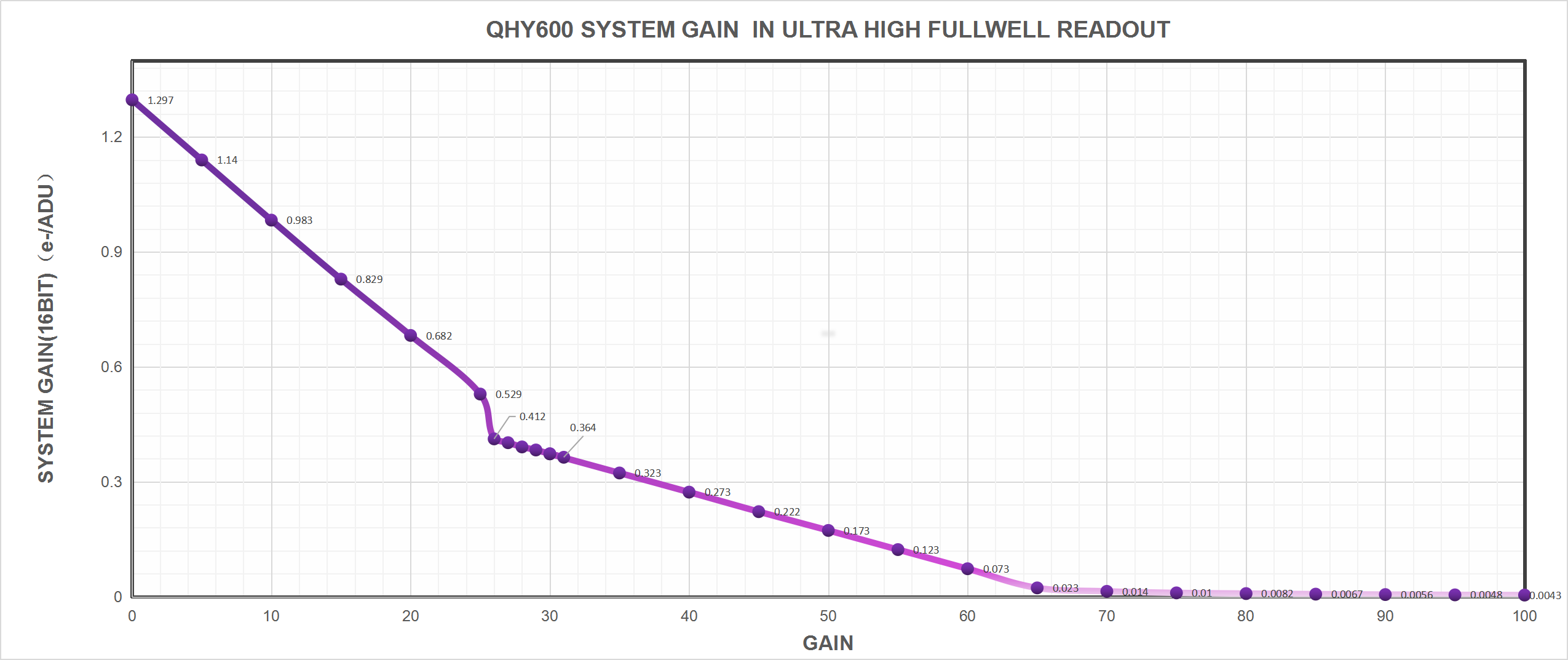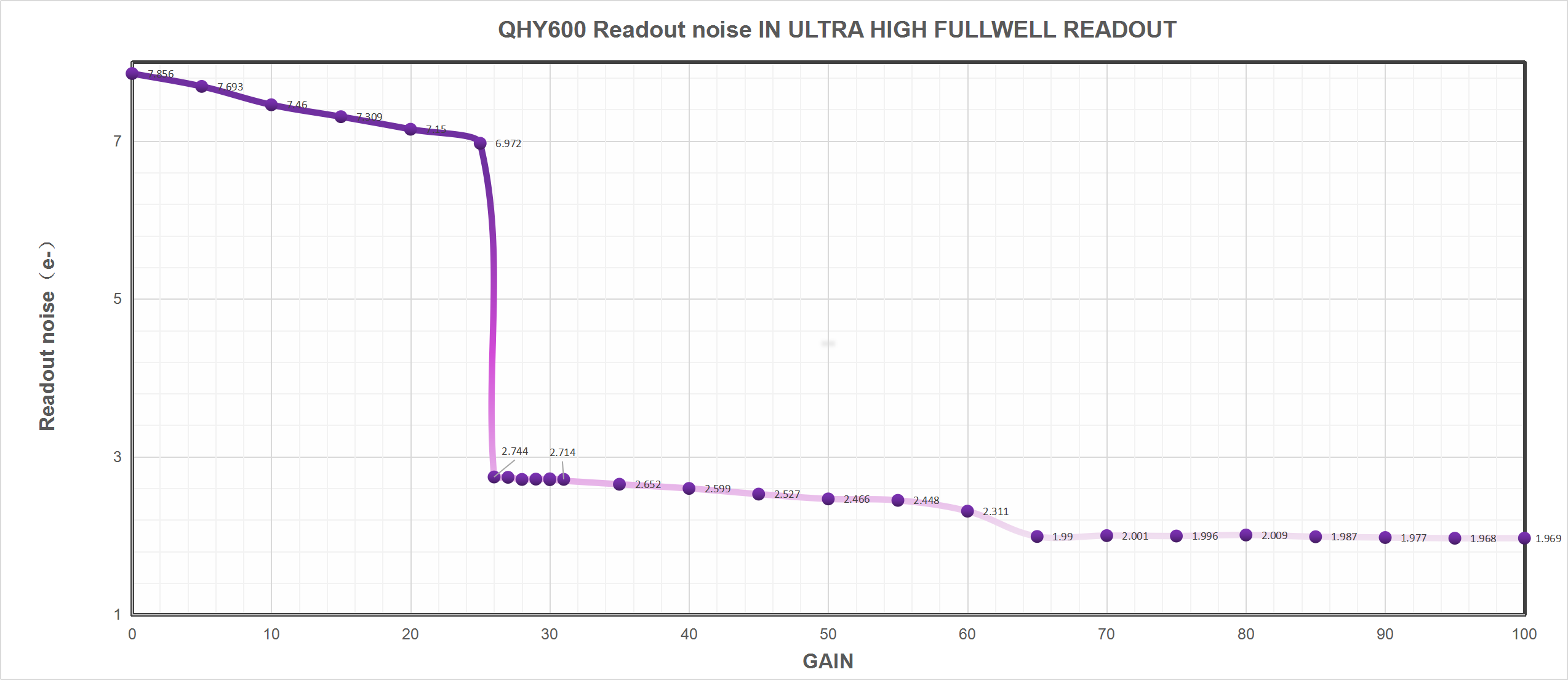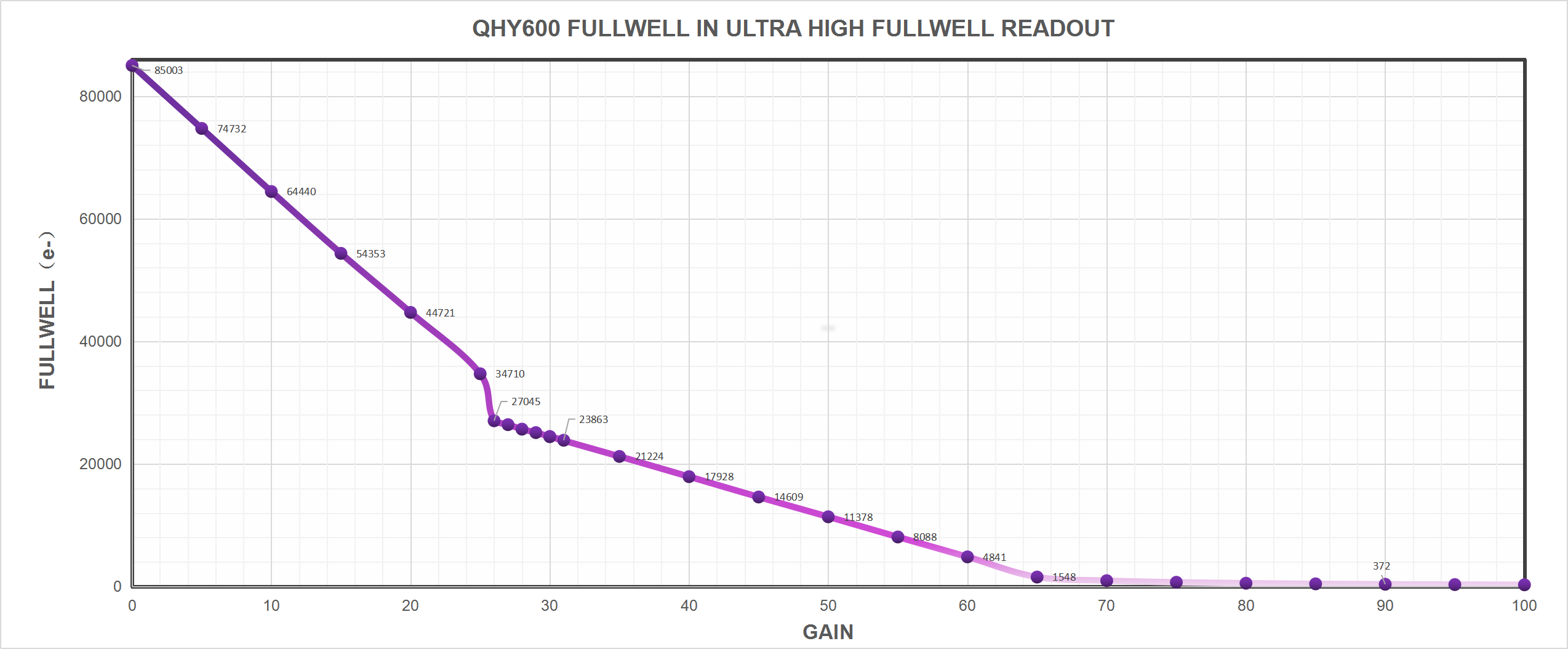 QHY600 Performance Curves in Readout Mode #1 (High Gain Mode). Please note there is a HGC/LGC switch point at gain55 to gain56. Gain0-55 is using LGC and Gain55-100 is using HGC.
The QHY600 QE is not the absolutely QE. It is the uniformed relativity QE .
The Mechanical Size and Back focal Length (in optic) of QHY600 Early Bird Price Version and Professional Version