QHY600 FULL FRAME FORMAT SCIENTIFIC CMOS CAMERA SPECIFICATIONS

Model

QHY600U3G20 (Professional Version)
QHY600U3 (Photographic Version)

Image Sensor

SONY Full Frame BSI CMOS Sensor IMX455ALK-K (Industry Grade)


This sensor is available in both -C (

consumer grade)

and -K (industry grade).

General speaking the -K version has a much longer lifetime than the -C version.

Currently, both the QHY600 Photographic version and QHY600 Professional version use the -K version of the sensor.

Pixel Size

3.76um x 3.76um

Color / Mono Version

Both Available.QHY600U3G20M and QHY600U3G20C

Sensor Surface Glass

AR+AR Multi-Coated

61.17 Megapixels


(9576*6388 effective area. 9600*6422 with overscan and optically black area)

Full Well Capacity (1x1, 2x2, 3x3)

Standard Mode
>51ke- / >204ke- / >408ke-
Extend Full Well Mode
>80ke- / >320ke- / >720ke-

16-bit (0-65535 levels) at 1X1 binning

18-bit at 2X2, 19-bit at 3X3, 20-bit at 4X4 software binning



*QHY600 uses the software digital binning for 2*2binning. With digital sum, 2*2binning will be four 16-bit summed then it is 18-bit.

Frame Rate

USB3.0 Port Image Transfer Speed

Full Frame Size: 4.0FPS (8-bit output)
Full Frame Size: 2.5FPS (16-bit output)
7.2FPS at 9600x3194, 22.5FPS at 9600x1080, 28FPS at 9600x768, 47FPS at 9600x480, 160FPS at 9600x100,

Fiber Port Image Transfer Speed (QHY600U3G20 only)

Full Frame Size: 4.0FPS (16-bit output)

Read Noise

1.0e- to 3.7e- (Standard Mode)

Dark Current

0.0032e-/p/s @ -20C 0.0056e-/p/s @ -10C

Exposure Time Range

40us - 3600sec

Firmware/FPGA remote Upgrade

Supported. Via Camera USB Port

Shutter Type

Electric Rolling Shutter

Computer Interface

USB3.0 / 2*10 Gigabit Fiber Port


(2*10Gigabit Fiber Port is a feature of the professional version only and needs the QHYCCD PCIE Graber card. In the early bird version the hardware is disabled. It can be enabled in an upgrade to the professional version in the future)

Hardware Frame Sequence Number

Supported

GPIO

(Professional Version Only) 4PIN, high speed with flexible FPGA conntrol.
Can be used as trigger in/out, multiple camera sync capture control, high precision GPS time measurement etc.

Built-in Image Buffer

1GBytes(8Gbit)/ 2GBytes(16Gbit)DDR3 memory

Non-volatile memory / On camera storage

Build-in total 64MByte Flash Memory. 10MBytes user-accessible space for stellar ROI frames for analysis of exoplanet investigation, occultations, atmospheric seeing measurement, focus, optical analysis, etc. Supports 100*100 image x 500 frames, 50*50 image x 4000 frames, 25*25 image x16000 frames, 10*10 image x 250000 frames

Dual Stage TEC cooler:
- Long exposures (> 1 second) typically -35C below ambient
- Short exposure (< 1second) high FPS, typically -30C below ambient

Optic Window Type

AR+AR High Quality Multi-Layer Anti-Reflection Coating

Power

40W/100%
20W/50%
13.8W/0%

17.5mm (

±0.2

)


(A special short backfocus front piece is available as an option. It provides is about 6.7mm B.F.L. Contact QHYCCD if you need this version)

Scientific Professional Version : 915g *
Early Bird Version : 915g *
Amateur Photographic Version: TBD *

Not including the M54/0.75mm center/tilt adjust ring)

Reference Price (TAX not included)

Amateur Photographic Version: USD4599




includes a 30% discount card of QHY367PRO-C



Early Bird Version Price: USD5000 1


includes a 30% discount card of QHY367PRO-C, includes 10% discount of QHYCFWXL/QHYCFW3L



Scientific Professional Version: USD8000


includes a 30% discount card of QHY367PRO-C,

The Scientific Professional Version price does not include the QHYCCD Fiber PCIE grabber card
Multiple Readout Modes is a new function for newer QHY Cameras. Different readout modes have different driver timing, etc., and result in different performance. Each readout mode has its advantage and disadvantages. The QHY600 currently has three readout modes. In the future QHYCCD may add more modes. These readout modes are currently supported in the QHY ASCOM Camera Driver, SharpCAP software and the N.I.N.A software. You can find the readout list box in the software.
QHY600 Performance Curves in
Readout Mode #0 (Photographic Mode).
In this mode there is a drop in the noise between Gain 25 and Gain 26. We recommend setting the Gain to 26 to begin. At this setting the full well is 27ke- and readout noise is 2.7e-. For every long exposures you can lower the gain from this point to increase the full well capacity.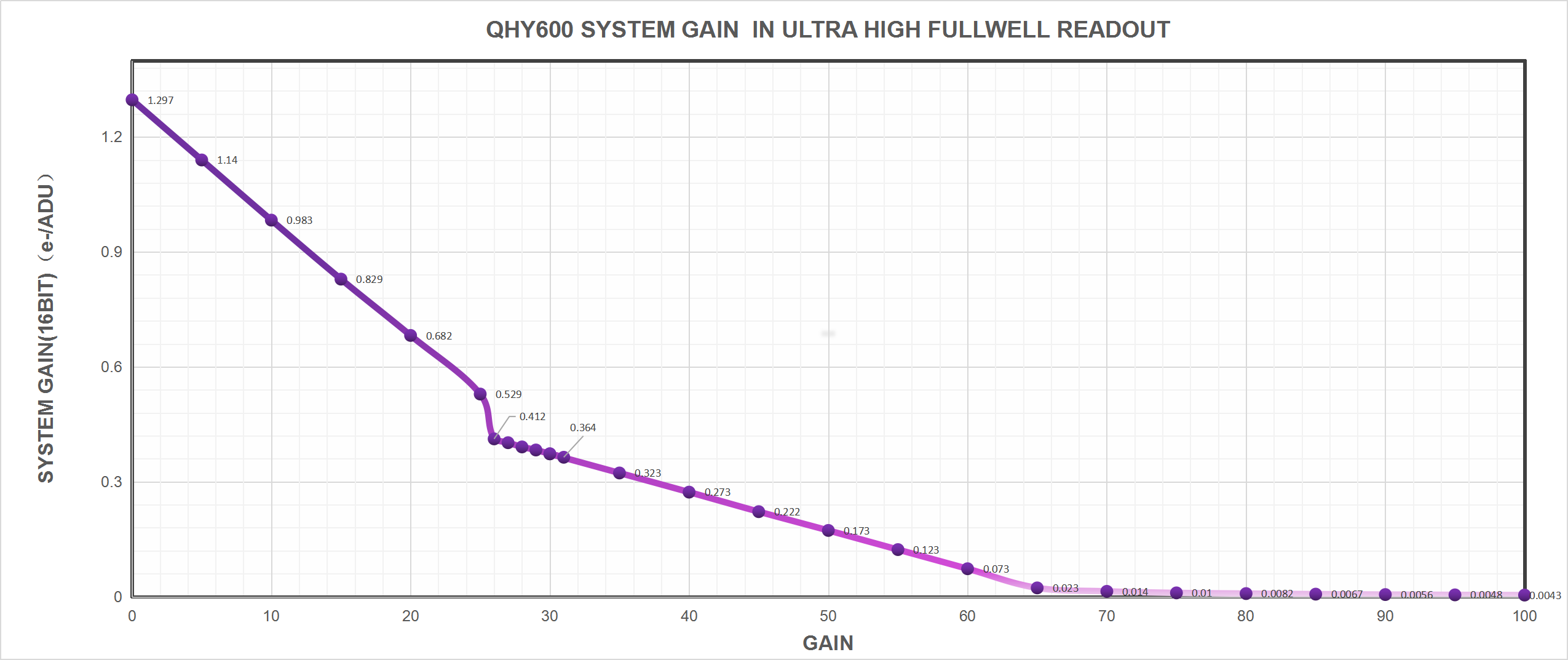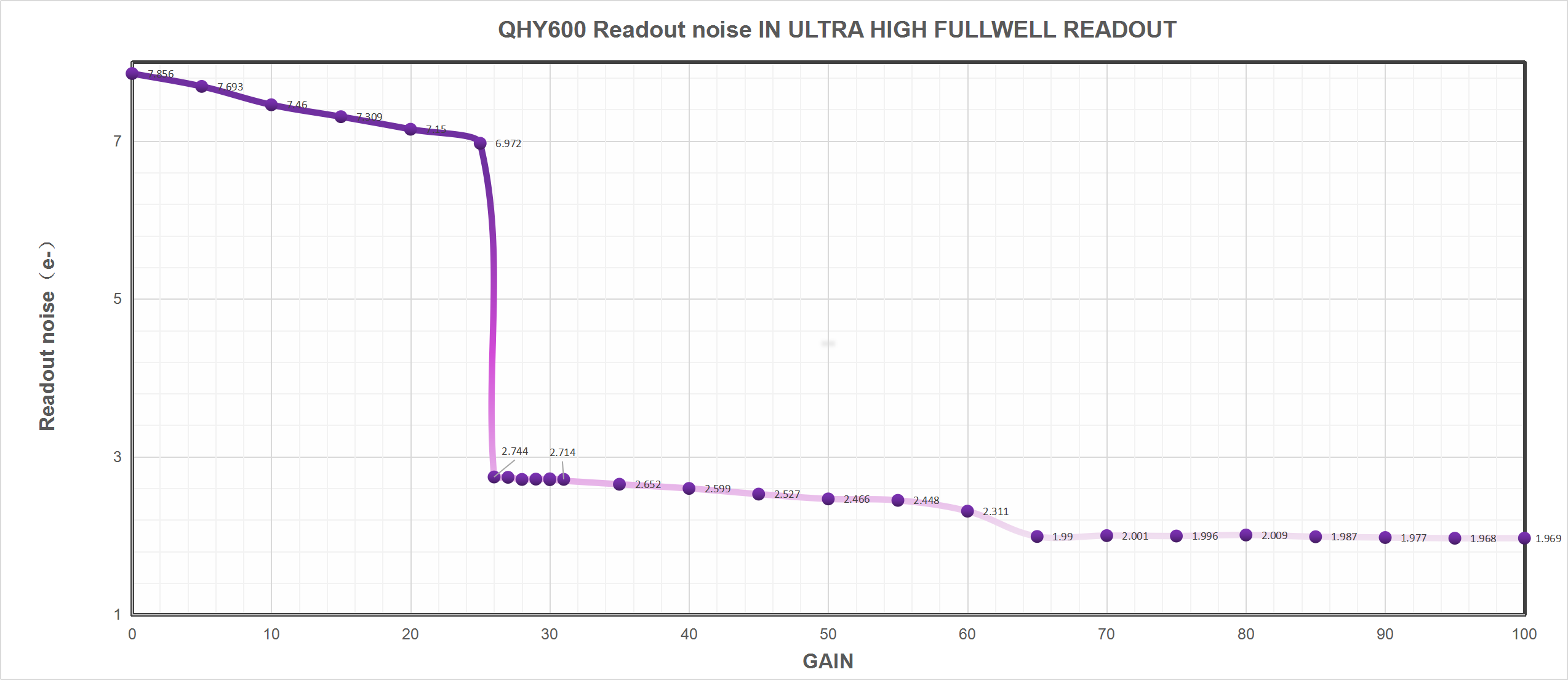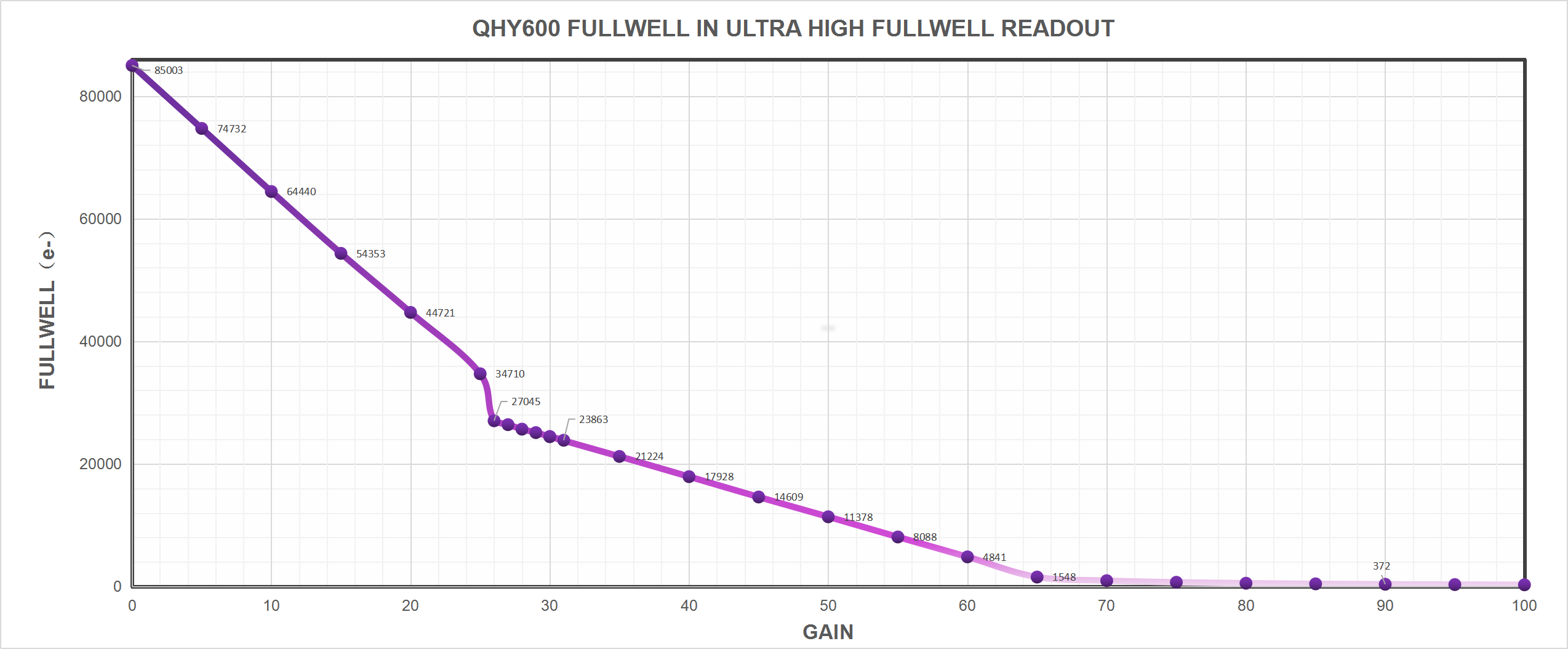 The QHY600 QE data below provided by Sony is relative QE, not absolute, however QHYCCD tested the absolute for QHY600 by comparing its response to a known reference.
The Mechanical Size and Back focal Length (in optic) of QHY600 Early Bird Price Version and Professional Version
QHY600 Connection Combination Table Part - 1

Camera

connected with M54/0.75 female adapter

Camera

connected

with 2 inch

to T adapter

Camera connected with

QHYOAG-M and 2inch Tring

Camera

with 2inch filter holder for flat field corrector solution

Camera

connected with

QHYOAG-M,2inch filter holder and flat field corrector soluiton

Need to order Optional Part

Need to order Optional Part

Need to order Optional Part

2 inch infrared

filter can be installed on the 2 inch to T adapter (M48 thread)

* This part can either be used or not used

** 2 inch infrared filter can be installed on the 2 inch to T adapter (M48 thread)

2 inch infrared filter can be installed on the position marked with *

* This part can either be used or not used

** 2 inch infrared filter can be installed on the position marked

The values in the brackets are the increment in the back focal length. Add these values together to get the total back focal length. The six-figure numbers are the unique serial numbers for QHYCCD accessories. You can find details for these parts here:

Mechanical Part Order List