The color wheel has been installed a 2-inch connector. This is the status of the color wheel when you take it out: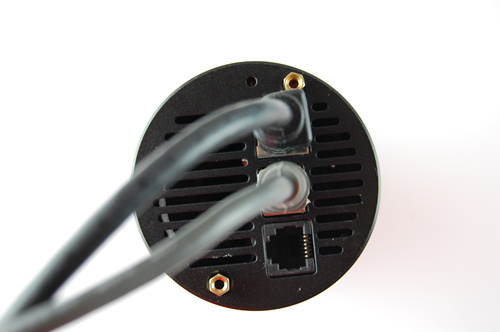 2.Clean your hand before install the optic filter glass.
3.Put the filter onto its position on the disk.
4.Use the tweezers putting the smaller spacer into the three holes besides the filter. (the spacer can be cut a little by knife to better fitting) . Put enough spacer to let the total height of the space the same of the filter's height. (if the filter height is 2mm, you can ignore this step, you do not need put any spacer.
5.Put the bigger spacers(red) on them
6.Install the M2*4 screws.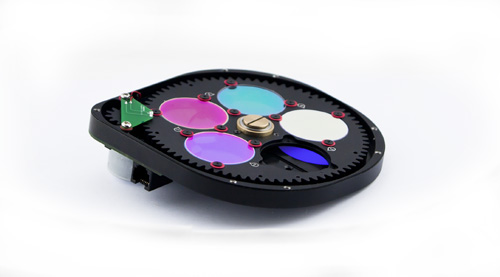 Put back the disk to color wheel:
1.Put the disk back to the big cooper plate.
2.Adjust the position and align the disk with the three screw holes on the plate.
3.Install the three screw for the disk.
4.Install back the screw on the green triangle board and tighten another screw.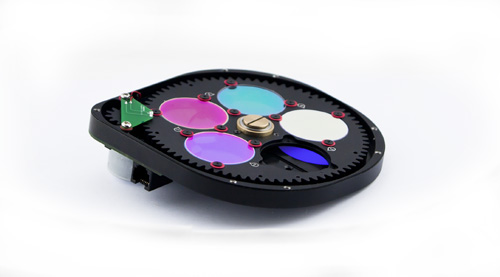 Close the case.
1.Put the case back
2.Install the seven M3 screw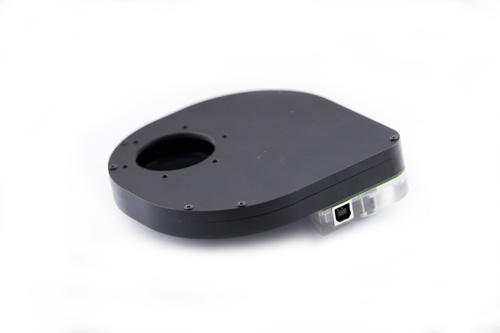 Connect Camera
1.Put QHY9 Camera front part into the camera 2inch connector.
2.Install the M4*70mm and M4*35mm screw.Please see the picture for the proper position of these screws.
3.Make sure the camera is well connected and locked by the screws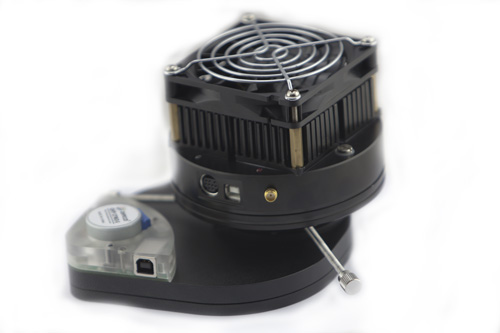 Install M42 to 2inch Adapter for Telescope Connection
1. Install the M42 to 2inch adapter on the other side of the color whee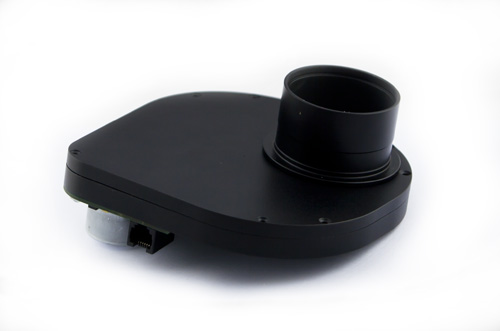 Connect Cables and Testing
1.Use QHY9 CFW connect cable, the 6pin side connect color wheel's RJ11 socket. The golden side connect the QHY9 CFW port. Use external 12V to connect with the DC input of the cable.
2.Use EZCAP to confirm the color wheel working.
When first power up it , the disk will rotate two cycle to find the initial position then stop. The LED indicator will keep on during the rotating then off.
After select a color wheel position in EZCAP, the color wheel should run to the correct position. Please check each position and make sure the color wheel work well. During the rotating the LED indicator will be on and color is different for different position.
Finally please note down the filter model of each position.