QHY5-III Series - USB3.0
Compact, Super-Speed, High Sensitivity, Planetary/Guiding Cameras
The QHY5-III series cameras are USB3.0 super-speed cameras and guiders. They can be used in a standard 1.25-inch eyepiece holder and have an adjustable location ring for confocality with an eyepiece. All QHY5-III series cameras come in a very small but powerful package!
The QHY5-III series employs an advanced thermal design. The heat generated by the CMOS sensor is transferred externally to the telescope's eyepiece tube. Additional heat is transferred to a heat sink on the location ring and cooled by outside air.
Software support includes: EZPlanetary, SharpCAP, FireCapture, Native WDM, BroadCast WDM and ASCOM.
The QHY5-III camera family includes the QHY5III174, QHY5III178, QHY5III185, QHY5III224, QHY5III290 and more to come.
Multiple Models with Sony Sensors
Including Sony Exmor and Exmor R Backside Illuminated (BSI) Sensors
QHY5III174 uses the 2.3 Megapixel IMX174, 1/1.2-inch Exmor sensor with global shutter. Available in both monochrome and color. The large sensor size is a great choice for solar imaging, and the large pixel size and high QE (78%) makes it excellent for deep-sky imaging as well.
QHY5III178 uses the new 6.0 Megapixel IMX178 STARVIS Exmor R back-illuminated CMOS sensor. Available in both color and monochrome. With its small 2.4um pixels and 1/1.8-inch sensor size, the monochrome QHY5III178M is a superb guiding camera due to its advantages in resolution and wide FOV, plus its extraordinary sensitivity due to the STARVIS Exmore sensor. (Starvis is Sony's designation for sensors that can record dim stars in real time video).
QHY5III185C is a 1/1.9inch format, 1920 x 1200, USB 3.0, Color CMOS Camera with ultra-high sensitivity and very low read noise. The pixel size is 3.75um x 3.75um. Maxium Frame rate is 100FPS @ full resolution. The CMOS sensor is a SONY IMX185 noted for its very good SNR1 score
QHY5III224 uses the IMX224 sensor (available in color only). With its extremely-low readout noise of less than one electron, the IMX224 sensor achieved the top score in the new SNR1 index proposed by Sony for picture quality at low illumination. It is one of your best choices for color planetary imaging.
QHY5III290 uses the IMX290 STARVIS Exmor R back-illuminated CMOS sensor. Available in both color and monochrome versions. Extremely low read noise. 1920x1080 full-HD resolution. 1/2.8-inch sensor size. This might be the highest-sensitivity sensor from Sony with such a small pixel size. The QHY5III290M can be regarded as the next generation in monochrome planetary cameras after the QHYCCD QHY5L-II-M.
LEMO Guide Port
Solid and stable connection
The QHY5-III uses a 5-pin LEMO-style Guide Port connector. The camera comes with a 5-pin-LEMO-to-RJ11 guide cable. Although a LEMO-style connector is more expensive, it assures a solid connection between the camera and other devices.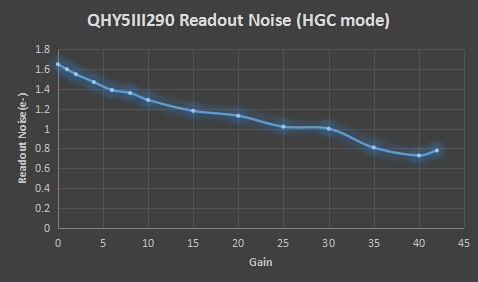 All QHY5III Cameras have excellent read noise perfomance and the capablity to capture nearly single photons. QHY5III290,QHY5III224 and QHY5III178 readout noise is less than one electron in high gain mode.
Max FPS @ full
resolution

262FPS@ 960 x 600

490FPS@ 480 x 300

100FPS@1528 x 1024

190FPS@764 x 512

112FPS@1280x1024
185FPS@800x600
227FPS@640x480

413FPS@320x240

300FPS@640 x 480

557FPS@320 x 240

220FPS@960 x 540 460FPS@480 x 270

USD599 (Color)

USD639 (Mono)

USD399 (Color)

USD469 (Mono)

USD399 (Color)

USD429 (Mono